Naomi's Garden sponsored by Louth Football Club
​A vital and unique Manby-based charity will be shared on the shirts of footballing youngsters this season.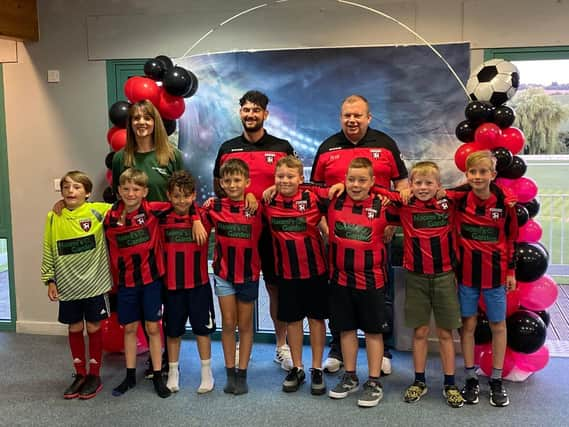 ​Naomi's Garden runs conductive education, SEND and HAF services for children and adults with movement and genetic disorders such as Cerebral Palsy, Parkinson's, Down's syndrome, MS, and Long Covid, and was set up by Sarah-Jayne Walker in memory of local girl Naomi, who she knew from their childhoods, and had cerebral palsy.
And now, youngsters at Louth Football Club's new Under 10s team will be sharing Naomi's name for the season as Naomi's Garden has been chosen as the club's chosen charity for the 2023-24 season.
Mandy Franklin, the chair of trustees at Naomi's Garden, said: "​As Naomi's mum and on behalf of Naomi's Garden I can honestly say that we are so incredibly blessed by Louth Football Clubs sponsoring us.
"To see our little girl's name on your shirts - giving children like her a representation when so many struggle with their own movement and speech is both humbling and exciting.
"We are incredibly grateful and look forward to seeing the impact it has on the awareness of provision we provide for children and adults with movement conditions."
Rob Wheelwright, the U10's assistant manager, said: "Our team is new this year and I asked the committee if we could get the club to put a local charity on the front of the shirts and they thought it was a good idea.
"It's something the club has never done before and they were more than happy to do it, and Naomi's Garden was mentioned by one of the parents and when we looked into what they do, I approached Sarah-Jayne to see if they would be willing to be a part of it.
"We really wanted to support a local charity and Louth Football Club want to give something back to the community, we are here for all the players, male or female of all ages, to play football and it's nice to give something back and the committee were more than happy to support it."Naomi's Garden lead conductor Sarah-Jayne Walker added: "I was blown away when I visited the club in August. The care the coaches had for these boys and the families shone all the way through.
"Naomi's Garden is so excited to see how far these lads go! We are 100 percent behind you as you grow as a team!"