New clinics keep services local for patients using Grantham Hospital
Outpatient and diagnostic services that had previously been run from Grantham and District Hospital will now be re-provided in the town, keeping services local for the population.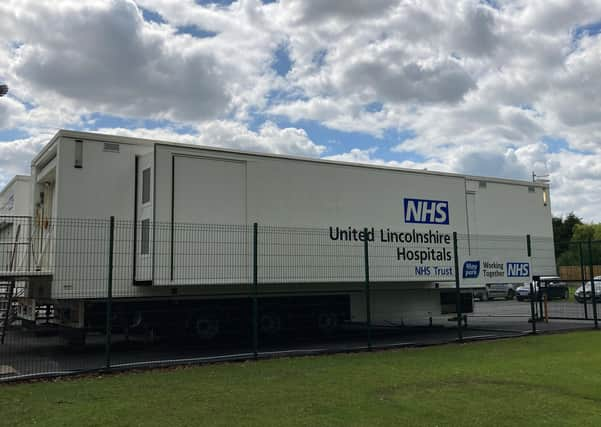 United Lincolnshire Hospitals NHS Trust has been working with local partners to find alternative locations to re-provide some services in the town, since the services provided from the hospital recently had to change so that it could become a 'Green' (COVID-free) site.
Last month, ULHT made the decision to temporarily change Grantham and District Hospital into a Green site, meaning that it can be used to treat urgent surgical and cancer patients from across Lincolnshire who had been waiting for their operations due to the COVID-19 pandemic. That unfortunately meant that some services had to be temporarily withdrawn from the hospital.
Since then, the Trust has been working with the local community and businesses to find a suitable location to create an additional base where it can continue to deliver essential services.
The Trust has opened a new clinic in Gonerby Road, Grantham and has introduced enhanced maternity services at the existing Grantham Health Centre. These new clinics will allow the Trust to continue to deliver a wide range of health services within the local area, that were previously based at the hospital.
The new Gonerby Road Health Clinic facility has been donated to the Lincolnshire NHS by local business Moy Park, who have also helped develop the facilities and enhance the grounds to provide improved car parking.
The repurposed facilities offer nine different clinic areas and will deliver services 9am-5pm Monday to Friday. The new site will be able to support outpatient clinics, therapies and diagnostic services. Further services include: ultrasound, radiology and x-rays, cardiac physiology, audiology for adults and children, respiratory physiology, abdominal aortic aneurysm screening, gastrological clinics and diabetic eye services.
Services being provided at the Grantham Health Centre include antenatal clinics as well as being the base for the team of community nurses who are running paediatric health services from here.
Services are now being provided from both of these sites, and before the end of July clinics will be running throughout the day every weekday.
Andrew Morgan, Chief Executive of ULHT said: "As a board we had to make some important decisions about turning Grantham and District Hospital into a temporary Green site so we could carry out essential urgent and cancer surgeries, to date we have undertaken over 100 medically urgent and cancer surgeries, as well as being able to deliver chemotherapy treatments to over 50 patients a day.
"As part of those changes we needed further facilities so we could continue to offer services. Moy Park's substantial donation has made this possible and I am again astounded by the generosity of people during these difficult times of a global pandemic.
"These changes mean that all clinic services that we previously offered at Grantham and District Hospital will continue to be available, and we have also been able to set up new clinics that we have never been able to offer locally before, such as a digital consultation unit for some outpatient and physiotherapy services that can be undertaken remotely for those who do not need a face to face appointment. The development of these new services mean we are now able to help more people and get on track after the pressures of coronavirus."
Andrea Carver, General Manager at Moy Park said: "The Gonerby Road Health Clinic provides essential health services to the local community and we are proud to support the continued delivery of key clinics through the provision of this additional space.
"Our team feels an immense sense of pride supporting key workers and communities in the local area – though charity donations, volunteering efforts and our Community Support Fund – and we are glad to broaden this support to the NHS clinic."