NHS flu and covid vaccine programmes brought forward in Lincolnshire
Eligible people across Lincolnshire will now be offered Covid-19 and flu vaccines from September 11, following the latest expert guidance on the new covid variants.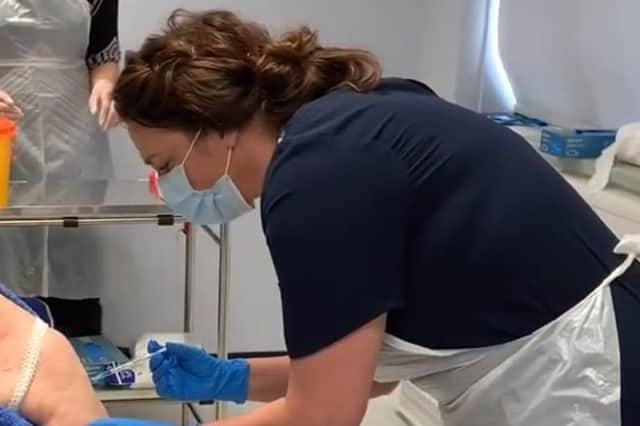 According to the NHS Lincolnshire Integrated Care Board, the adult covid vaccination programmes had been due to start in October 2023, but now those who are resident in care homes or are housebound will be vaccinated earlier, from September 11, which will also bring the covid vaccination programme into line with the flu vaccination programme.
This change from October to September is said to be a precautionary measure and follows an announcement by the Department of Health and Social Care (DHSC) and the UK Health Security Agency (UKHSA) on the pre-emptive measures the NHS has been asked to take.
"With this in mind, nationally the NHS has been asked to bring the vaccination programme forward and we will be working quickly to ensure as many eligible people as possible are vaccinated by the end of October," said Julie Humphreys, Head of Clinical Services, Lincolnshire Community Health Services NHS Trust.
"As with previous rounds of the covid vaccination programme, we will start by vaccinating residents of care homes from September 11, and those most at risk first - including people who are immunosuppressed - from
September 19. Following this we'll then begin to vaccinate adults aged 65 and over, as well as carers, pregnant women, and front line health and social care staff."
Eligible people may receive an invite from their local GP practice or they can make an appointment for their covid vaccination online using the National Booking Service or by calling 119. Front line health and social care workers will be invited for their vaccines through their employer.
If your GP practice is not offering covid vaccinations, see list immediately below, you will be able to book an appointment in a local outreach vaccination clinic by calling 01522 301940.
Practices not offering covid jabs are: Old Leake Medical Centre; Merton Lodge Surgery; Stickney Surgery; Spilsby Surgery.
For patients at the GP practices listed above, the outreach vaccination clinics will mean they will not have to travel as far to get vaccinated.
They will be able to access their vaccination in an outreach clinic by calling the dedicated telephone number 01522 301940 to book their covid vaccination appointments. The number is available Monday to Friday,
between 9.15am and 4.45pm.
Of course, there is still the option for people anywhere in the county, including at the practices listed above to use the National Booking Service or call 119. If using 119 or the National Booking Service you may be given the option of booking your flu vaccination at the same time.
"Our aim is to enable those who need it most to get vital protection from both flu and covid over the winter months, to stop them developing serious illnesses and helping to minimise hospitalisations during busy winter
months. Remember, if you're aged 65 and over, you are eligible for both a covid and a flu vaccination this winter," adds Ms Humphreys.
"If you have already booked an appointment for your flu vaccination with your GP practice, that's fine and this appointment will go ahead as scheduled. Whilst we will be encouraging people to have both a covid and a flu vaccination at the same time to maximise protection during what is likely to be a very challenging winter, we understand that some people will prefer to have their vaccinations separately and this is fine – the important thing is to have both if you are eligible and to come forward as soon as possible."
As in previous rounds of the covid vaccination programme, GP practices will play a key role in vaccinating people. In addition to this, Lincolnshire will also once again have a dedicated vaccination centre in Lincoln, as well as the outreach service. There will also be a number of local community pharmacies able to offer both the covid and flu vaccinations – appointments at community pharmacies can be booked using the National Booking Service.
There will be no change to flu vaccinations for children which will be offered in schools from early September, to prevent children from getting seriously ill from flu and ending up in hospital, and to break the chain of transmission of the virus to the wider population.
The nasal flu vaccine is the most effective vaccine for children aged 2-17 years but if this is not suitable your GP or practice nurse may be able to offer a flu vaccine injection as an alternative.
Those eligible for an autumn covid vaccine are:
- residents in a care home for older adults
- all adults aged 65 years and over
- persons aged 6 months to 64 years in a clinical risk group, as laid out in the Immunisation Green Book
- frontline health and social care workers
- persons aged 12 to 64 years who are household contacts (as defined in the Green Book) of people with immunosuppression
- persons aged 16 to 64 years who are carers (as defined in the Green Book) and staff working in care homes for older adults.
In line with advice from the Joint Committee on Vaccination and Immunisation, those eligible for a flu vaccine this year include:
- those aged 65 years and over
- those aged 6 months to under 65 years in clinical risk groups (as defined by the Green Book, chapter 19 (Influenza)
- all children aged 2 or 3 years on 31 August 2023
- school-aged children (from Reception to Year 11)
- those in long-stay residential care homes
- carers in receipt of carer's allowance, or those who are the main carer of an elderly or disabled person
- close contacts of immunocompromised individuals
- frontline workers in a social care setting without an employer led occupational health scheme including those working for a registered residential care or nursing home, registered domiciliary care providers, voluntary managed hospice providers and those that are employed by those who receive direct payments (personal budgets) or Personal Health budgets, such as Personal Assistants
There is more information about the covid vaccination programme on NHS Lincolnshire ICB's website www.lincolnshire.icb.nhs.uk/grabajab.