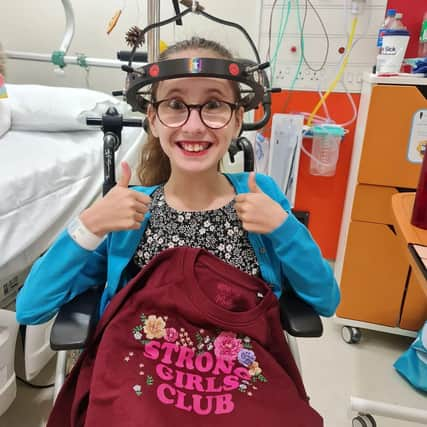 Phoebe Roberts, 9, was born with spina bifida and hydrocephalus (a build up of fluid on the brain), and had her first surgery when she was just three days old and was not expected to even walk.
But she has defied all the odds and has been taking part in ballet lessons at Dance 10 in Horncastle.
Last year, Phoebe underwent a pioneering but risky ten-hour operation to help straighten her spine and remove and then re-align her ribs at Sheffield Children's Hospital.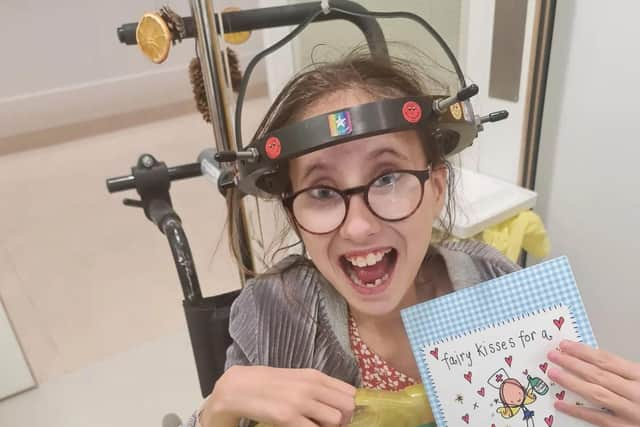 The surgery was a success, and now Phoebe is recovering from another operation to remove part of her spine and discs, as well as removing another rib to access the correct part of her spine.Phoebe's mum Rebecca said: "She lost a lot of blood during the operation but she pulled through and she's come through it smiling as she always does.
"She's so brave and takes it all in her stride."
Phoebe now faces eight weeks in traction with weights added as part of a pulley system to slowly stretch her spine into a straighter position.
But as she cannot leave the hospital while in traction, Phoebe faces a lengthy hospital stay as she will have to remain in traction until her next surgery on June 27 to insert a rod into her back – so the family is facing several more weeks apart.
Rebecca said: "I've been staying in the hospital with Phoebe during the week Monday to Friday and then go home to our other children on the weekend while my husband takes his turn staying with Phoebe – I see him for an hour on Mondays, so it's been hard.
"But in the grand scheme of things it's only three months and the doctors are hopeful that this should be the last surgery."
Unfortunately, Sheffield Children's Hospital's wards 1, 2 – where Phoebe is staying – and 3 were impacted by an electrical fire last week, where all patients were evacuated and their toys and DVDs were destroyed.
A spokesman for the Sheffield Children's Hospital said: "Following a small fire at Sheffield Children's Hospital we need to replace some things in our play/teen room to help our patients feel at home while they're with us.
"To make sure we can get exactly what we need for our children and young people we ask that if you'd like to donate, please do so through cash donations.
"We know there will be particular things our families will need and by donating to the Charity we can make sure we get just the right things.
"Thank you everyone for their support and donations to help our children and young people while they're staying with us.
You can donate through The Children's Hospital Charity at https://www.tchc.org.uk/donate/"
To ease the boredom for Phoebe while in hospital, her family are now appealing for anyone who would like to, they can send Phoebe a card as Rebecca said she loves getting cards.
Donations of any other board games, crafts, and activities for Phoebe would also be appreciated.
Cards and donations can be sent to Phoebe Roberts, Ward 2, Sheffield Children's Hospital, Western Bank, Sheffield, South Yorkshire, S10 2TH