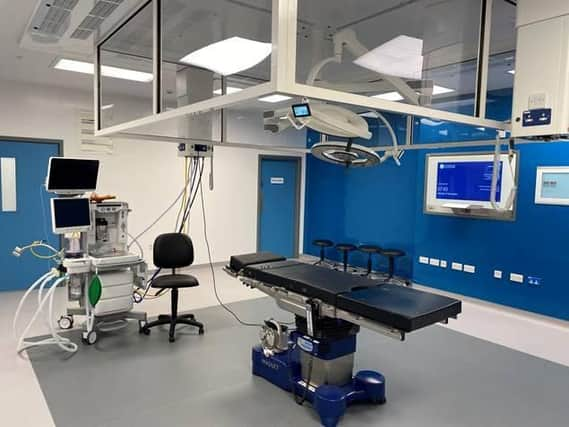 As part of the biggest ever NHS catch-up plan, an estimated 6,735 additional surgeries will be provided at new or expanded surgical hubs and new theatres dedicated to elective care across the East Midlands.
Surgical hubs are separated from emergency services in hospitals meaning tests and operations can continue in one place, largely unaffected by increased pressure in other parts of the hospital, such as covid and flu.
The Elective Hub for United Lincolnshire Hospitals NHS Trust was elected to be at Grantham and District Hospital, which has just completed a £5.3million expansion.
The two new theatres which opened in November increased capacity at Grantham by 50 per cent, allowing the team to see more people from across the county and reduce waiting times for procedures including orthopaedics, ophthalmology, urology and general surgery.
The modular building includes preparation rooms, utility facilities and a six-bed recovery bay. There is also an area for staff to change and take a break.
The theatres include an ultraclean ventilation system and digital screens which allow theatre teams to access real-time patient and diagnostic information.
The first patient to undergo a procedure in the new theatres was Elizabeth Jackman, of Navenby, who underwent a knee replacement.
Mrs Jackman said: "This is the second knee replacement I have had and I knew from my symptoms that I was likely to need surgery again. It can be very limiting when you are waiting for surgery and now I'm really looking forward to getting out walking again and keeping fit."
One year since the NHS Elective Recovery Plan was launched, staff have virtually eliminated two-year waits for care and the backlog is going down for the first time since the beginning of the pandemic.
NHS Midlands Medical Director Jessica Sokolov said: "We are determined to make the best possible use of the additional investment to address the backlogs and provide timely, expert care to as many people as possible."