'Take no risk with this virus' - warning of husband whose wife died of Covid-19 while he battled for his own life in hospital
The heartbroken husband of a retired NHS hero who died of Covid-19 while he was battling for his own life in hospital says no-one should risk catching the virus.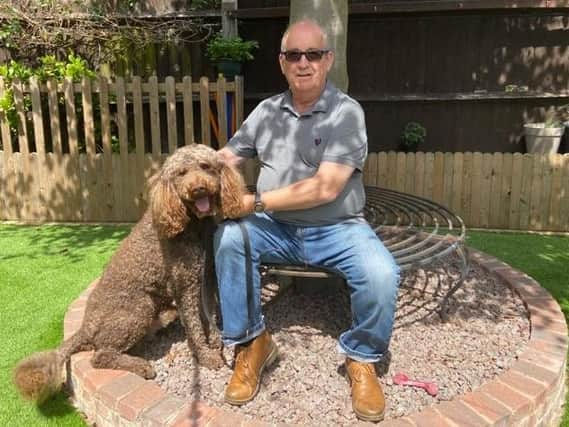 Jeannette Field lost her battle after becoming sick a week after her husband, Robert, had been admitted into Pilgrim Hospital in Boston, where for many years she had worked as a secretary to heart specialist Dr Cyril Nyman. She was 71 years old.
Robert had been on a ventilator in an induced coma when she passed away on Saturday, April 4. The tragic news was broken to him the day before her funeral, to which he was too poorly to attend.
But he was able to watch the Skegness Standard video of the funeral procession, showing neighbours and fellow Rotary Club members lining the street in a guard of honour to pay tribute to Jeannette.
We sat in the sunshine on the wall which had been adorned with floral tributes on the day of the funeral. "Losing Jeannette has made it doubly tough - she did not deserve to die," said Robert, aged 69.
"My daughter, Sarah, broke the news to me - hearing that is something you just can't believe.
"She is a nurse and came to me dressed in full PPE. I am so proud of the way she handled it - and then mucked in and helped the nurses.
"They were all amazing but now I'd have no idea who they were to say 'thank you' because of the heavy PPE - even if you paid me £5,000."
Altogether, Robert was in hospital for seven weeks - four of those in a coma. For the last few days, he was transferred to Skegness Hospital.
"People ask me how I caught it but I really didn't see it coming," he said. "I had been around schools for the Rotary Club promoting 'five-a-day'.
"I could have caught it visiting a supermarket or corner shop. What I do know is I wouldn't wish it on anyone."
Robert says he was admitted to hospital on March 24. "I had been visiting a friend and suddenly felt very poorly while I was walking home - shortness of breath was my main symptom.
"From then I deteriorated fast and Jeannette called 111 and the ambulance arrived to take me to Pilgrim.
"I can remember being blue-lighted to hospital at a very fast speed, going into A&E and then intensive care, where I was put on a ventilator.
"When I was put in an induced coma it was like a long dream - I can recall hallucinating but nothing bad - adventure dreams.
"I flatlined several times - the nurses recorded everything for me in a book.
"It's spooky how time passed by without me knowing - when I was admitted to hospital the trees were bare and when I came out they were were full of leaves.
"My other daughter, Michelle, came with me when I was transferred and has helped me since with exercises to regain my strength as I lost 50 per cent of my muscle mass.
"The staff at Skegness were also amazing - and the community, too. We were always having cakes brought in."
Support has continued since returning home - with food parcels arriving at the door and lots of offers to help walk Robert's dog, a lively Standard Poodle called Byron.
The Thursday evening after being released from hospital was particularly emotional as Robert, joined by his son, Lieutenant Colonel Peter Field, stood outside as neighbours had done on the day of Jeanette's funeral to clap once again, this time for the NHS.
"I was really moved as they came over to speak to us," said Robert. "They have been so supportive."
Now retired from a challenging career running pubs, he hopes to eventually return to activities with the Rotary Club, including organising the Santa Run
For now, though, he is focusing on his recovery.
He also regularly visits the Birdsong Gardens, where Jeannette is laid to rest. "It is a beautiful place where you can sit with a cup of tea and reflect," he said.
However, he says the battle with Covid-19 is not over yet and he urges everyone to wear a mask, follow all the government guidelines and protect themselves.
"The virus does not discriminate - it has not gone away, it is in hiding," he warns.
"I thought I was invincible - the next time it could be you."