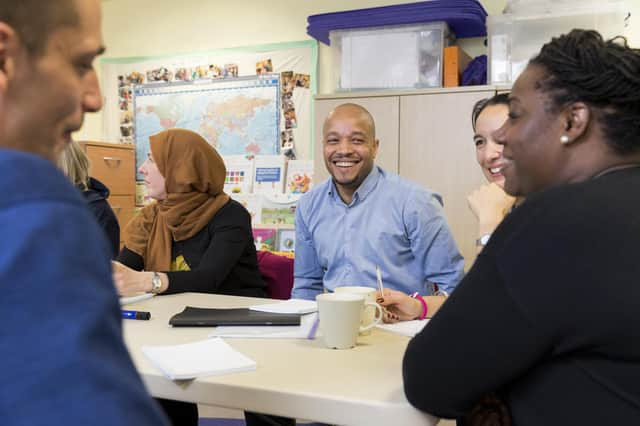 Figures from Cancer Research UK (CRUK) show a huge difference in survival rates for some of the most common types of cancer based on early or late diagnosis.
Importance of early detection
Sadly, survival rates drop to just 27 per cent and 10 per cent respectively for these two types of cancer following late diagnosis. That's why raising awareness about the importance of early detection is a top priority.
Growing knowledge about risk factors, early diagnosis and greater understanding of the complexities of cancer have all contributed to increased survival rates which have doubled overall in the last 40 years.
That's just one of the encouraging messages shared by CRUK's awareness training programme, Talk Cancer, which aims to pass on relevant information to people in community roles who can then use what they learn to help others.
Talk Cancer workshops are delivered regularly to groups by experienced nurses who have trained thousands of people UK-wide. Designed to be engaging and interactive, the sessions give participants the confidence to start conversations about cancer, pass on resources and signpost to other services, all with the aim of preventing the disease or finding it early.
National screening programmes – available for breast, bowel and cervical cancer – also play a significant part in the ongoing progress.
There are benefits to the screening programmes, but they are also not perfect. The advice is to find out the facts and make an informed decision.
Gill Kilgour, Talk Cancer's nurse lead, said: "There are lots of things that might be barriers to early detection including not being aware of potential signs and symptoms, delays to appointments or referral, concerns about screening or fears about wasting a doctor's time."
Share simple health messages
Gill is keen to stress the importance of sharing simple health messages and how this can help to spot cancer early.
She added: "We know these things aren't easy to talk about so we aim to empower people to recognise opportunities to start conversations about cancer and health and share simple messages that can ultimately save lives."
The sessions are available free of charge for some groups and you can use the online eligiblity checker to find out.
* Ahmad AS et al. British Journal of Cancer, 2015