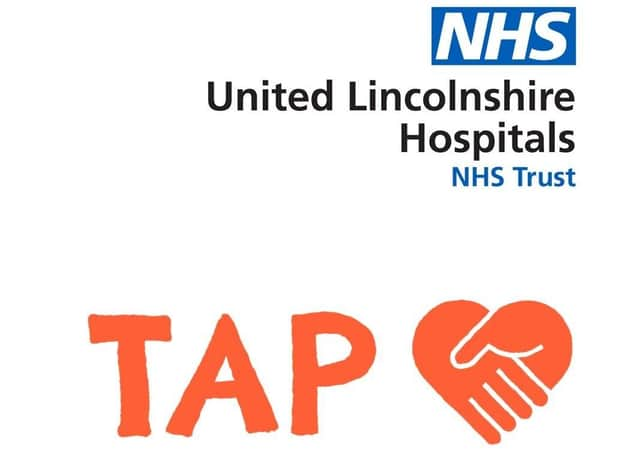 United Lincolnshire Hospitals NHS Trust, one of the largest acute hospital trusts in England, is using TAP's social thanking platform to help boost their staff's morale and wellbeing during these challenging times.
It means that the 720,000 population served by the Trust's four hospitals - Lincoln County Hospital, Grantham and District Hospital, Pilgrim Hospital Boston and County Hospital Louth – can now quickly and easily send personal messages of thanks to hospital staff via a dedicated Digital Thanking Wall: www.thankandpraise.com/thankingwall/lincolnshire-nhs-trust
All messages are checked for positivity before being shared publicly, as well as directly with the Trust's staff working across their four hospitals.
Both the Trust and TAP are excited about the potential of this new partnership to improve workforce wellbeing as well as further improve the patient experience.
"We are really looking forward to working with TAP as we know that when our patients say thank you to our staff that it boosts morale so much and it makes it more valuable in these very difficult times" said Sharon Kidd, Patient Experience Manager, United Lincolnshire Hospitals NHS Trust. "We all know that happy patients make happy staff."
The messages appearing on their Thanking Wall are personal and heart-felt, such as: "I would like to thank all the staff at Pilgrim Hospital Boston on the COVID ICU who have been caring for my brother John. He is still battling this awful disease, but thanks to you all for holding his hand and comforting him every night and day. Best wishes to you all to stay well."
Matt Findel-Hawkins, chief executive of TAP confirmed: "We are excited that TAP's social thanking platform is being used by one of the largest NHS Trusts in the country. This demonstrates our belief that the giving of thanks and praise is hugely beneficial to both the receivers of thanks, and the givers."
TAP is rolling out across the country following its support of healthcare and education workers during the first phase of the COVID-19 crisis. TAP collected over 1,000 messages of thanks on its Digital Thanking Walls from around the UK which were viewed over 500,000 times: https://thankandpraise.com/digital-thanking-walls
Here are some more messages of thanks already posted by the public to the key workers in Lincolnshire:
To: United Lincolnshire Hospitals – "Thank you doesn't seem enough. I just hope people realise how tough it has been for you all. We would be lost without the NHS. Stay safe and God bless".
To: United Lincolnshire Hospitals – "Thank you to the hospital, but also thank those working in the community and mental health sectors including all those cares both paid and unpaid. Thank you!"
To: Lincoln Hospital Theatres with special thanks to Ms A. Band (6) – "Thank you for going the extra mile during both waves of the pandemic. Your organisational skills and support have been way more than your role requires".
To: Day Ward & Ward 5a, Pilgrim Hospital Boston, East Lincolnshire – "I came in for surgery at the beginning of November and the care received on the Day Ward for my 5 day stay was absolutely amazing. Nothing was too much trouble and I was always made to feel like I was taken care of. I was rushed back via A&E and put onto Ward 5a. The entire stay again was fantastic from the moment I arrived to the moment I left. Things are difficult at the moment; staff levels are short, everyone is working twice as hard, but still I was made to feel valued and cared for. I can't thank you all enough"