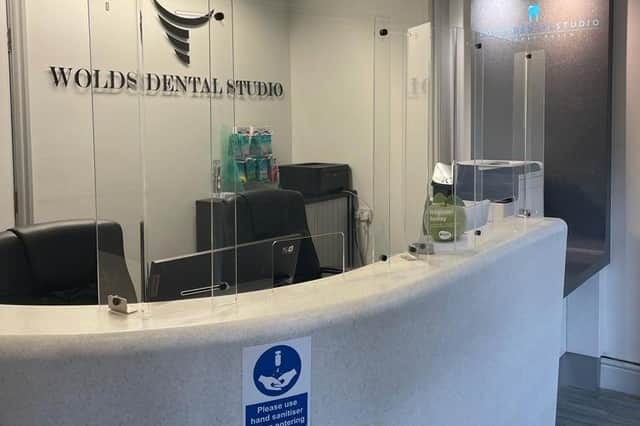 Eat whatever you like again! Find out more about life-changing dental treatment.
The team at WDS understand how important healthy teeth and a great smile benefit – both in being able to eat what you like and socialise in the way you want to with confidence.
Their treatments can and have been completely life-changing for many people.
They understand a visit to the dentist can be daunting – perhaps childhood memories put you off, or you just don't know where to start because it is so long since you've been.
If you're finding dental issues are making you avoid certain foods, or making you hide your smile, or leaving you lacking in self-confidence - Wolds Dental Studio have a solution for you
Free consultation and bespoke treatments
At WDS, under the ownership of principal dental surgeon Mr Sam Mohamed, they have introduce a treatment co-ordinator – a highly qualified dental nurse who can do an initial 1-2-1 consultation to discuss your needs and talk through the options available in terms of treatment and costs.
And with 0% finance available, this can really take the anxiety away from you right from the start.
The treatment will be bespoke – which means it will be entirely planned for your requirements, and for the results you want to see. You might be looking to straighten your teeth, you may need implants or general dentistry – or you might just want a brighter, whiter smile.
Life-changing dental treatment could bring back your confidence to smile again
If you have dental anxiety or phobias then they can offer conscious dental sedation for most procedures. "At WDS we understand our patients needs and will do everything we can to make your experience as relaxing as possible," says Sam.
Sam set up the practice - which is centrally located at Queen Street, Market Rasen - in 2013 and it has gone from strength to strength. There are now three surgeries with Dr Suresh Samy, dental surgeon and facial aesthetics practitioner, Dr Valeriu Osoianu, dental implant and oral surgeon, Dr Joey Gray, general dentist, Dr Hani Mostafa, visiting orthodontist, and Miss Lorna Smith, their dental hygienist. As mentioned, they also have a team of highly qualified nurses and reception staff who are there for you to talk to and assist you through your treatments.
This wealth of expertise and experience means the team can offer you a calming environment in which to have your treatment.
"We at WDS pride ourselves on stress-free treatments," says Sam. "Modern dentistry has improved in leaps and bounds, and we now use the latest technology to ensure you are getting the best treatment with the least disruption.
"We still use two-dimensional X-rays, but the practice also has a CBCT 3D scanner that can take a scan of all areas in your mouth, including the jaw and areas of the skull. This gives us an accurate picture of what is going on and helps us to plan the most effective treatment. This technology is invaluable then planning dental implants.
"If you dreaded those old-fashioned dental impressions, fear no more. We now use an Intra Oral scanner – a pen-sized device that can take a detailed scan of your teeth and gums without the need for any traditional impressions.
Facial aesthetic treatments
"As well as all forms of dentistry – from a scale and polish to complex full mouth rehabilitation – we also offer a range of facial aesthetic treatments including anti-wrinkle treatments, hair replenishment and fat-dissolving treatments."
But don't just take their word for it. Patients have spoken of how the treatment they have had at WDS has been life-changing.
Paul Knott, whose before and after picture can be seen on WDS's Facebook page. He said "I put my complete trust in Sam's expertise, and the results are life-changing for me.
"I'm the chap in the before and after pictures - a bit of a change as I'm sure anyone reading this will agree! I can only give huge thanks and praise for how I've been looked after by Sam and all the staff.
"From start to finish, the process was explained in detail to me. I was treated with care and understanding, and am completely over-the moon with the finished results."
Take a look on the website for more information on treatments, fees and to view the smile gallery and give them a call to arrange a consultation – it could be the first step to a life-changing experience!