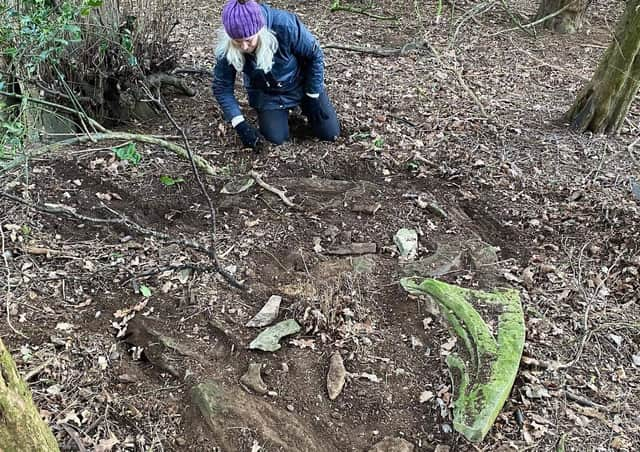 Uncovering the old church window in the grounds of Leadenham House. EMN-211204-200756001
While clearing shrubbery on the edge of the parkland between Leadenham House and the parish churchyard, owner William Reeve discovered stonework of what he thinks is an old church window frame.
Mr Reeve explained: "We have not uncovered much of it yet but think Lincoln University might be interested in having a look and helping us be more organised in digging it out."
He went on: "We think it might be a medieval church window - perhaps from the existing church - which got swapped and dumped. Or it could be older.
"We were in the process of tidying up to show people around for wedding bookings and just uncovered it a bit with our hands."
It has been covered up again to preserve it until a proper plan is in place.
William said: "I want to do a lot more to the park to make it more interesting for the public when they visit and this discovery may add to that and to our heritage site status."
With the government covid roadmap setting out when gatherings and weddings can start up and expand in size, couples are being shown around the house and plans are coming together for a spring festival and wedding fair on May 23.
He and his fellow organisers had planned to hold a similar event last spring but had to cancel due to lockdown.
May 17 will see the end of the rule of six for outdoor groups and so Mr Reeve has set the date for the fair after that.
William said: "It will be a complete festival with music, artisan stalls and food. Spring festivals have folklore traditions around rebirth and fertility and that goes nicely with weddings and marriage."
He is even trying to arrange a maypole dance involving the village school and getting an expert to show them how to do it.
He is in regular contact with the district council's environmental health team for advice to make it covid safe and people will be able to book tickets via their website and facebook.