Civic Trust Award for new mosaics
Tuesday last week saw the presentation of an award from Sleaford Civic Trust to the commissioners and creators of a series of mosaics in the town.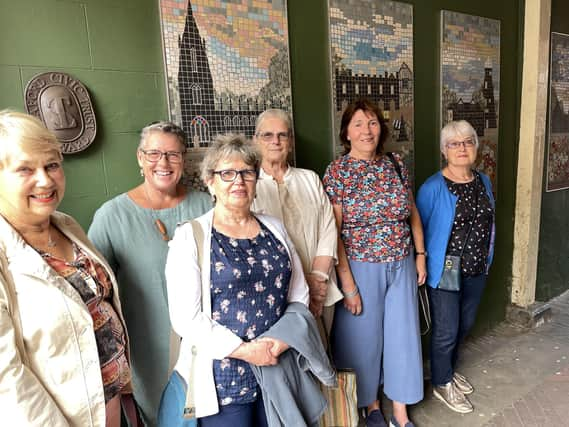 The Civic Trust each year gives out awards to reward outstanding contributions to the street scene and architecture of the town within the last 12 months.
The mosaics mounted on the wall of the entrance from Southgate to Money's Yard, known as Gladstone's Yard, were commissioned by Sleaford Town Council and created by local volunteer members of the MosArt mosaic making group.
Since early times the main road through Sleaford has been Southgate. Then following the opening of Carre Street in the early 1800's local businesses built yards between the two roads. With the ownership of the yards changing, the name over the connecting passageway from Southgate has changed and is now known as Gladstone's Yard and Money's Yard.
This passageway now being used by many people had over time become neglected and untidy.
Back in 2020 Coun Tony Brand, with Town Council backing, worked with the MosArt team led by Pauline Dobson, with Kate Batsford doing the research. They designed and constructed six pictorial mosaics of Sleaford landmarks.
The plaques were designed and made up, with some difficulty, over the Covid period, in a room provided by the Town Council.
The Civic Trust presented the award plaque to Mayor Tony Brand and the MosArt team in a ceremony beside the mosaics.