The team at Mrs Smith's Cottage are holding a 'Bee Safer Cycling' event while thanking the public for their support at the same time.
On Saturday, March 25, from 12-4pm there will be a variety of fun activities on site as visitors are inspired to take a leaf out of Mrs Smith's book and 'Be More Hilda' by embracing a simpler, more sustainable mode of transport. Mrs Smith's life offers valuable lessons to guide us in our pursuit of sustainable living today, learning from the past to live better and reduce our impact on the planet.
The event will include local cycling partners Cycle Lincolnshire and Pedal Electric, and as well as two-wheeled themed activities there will be led bike rides and a static 'Smoothie Bike' – pedal hard enough and whip up a healthy drink!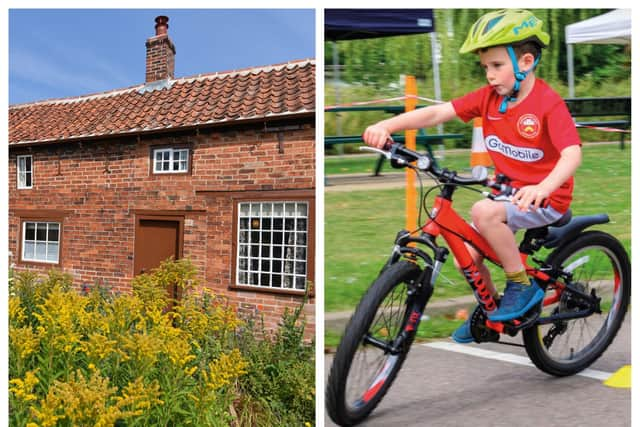 The team will also be joined by Lincolnshire Police giving advice on deterring bike thieves, and the volunteers will be on hand bike marking.
As an extra offer, the museum is delivering free 'Bee Cycle Safe' workshops to schools during March. If your school would like to be involved, email [email protected]
As a recipient of National Lottery funding, Mrs Smith's Cottage Museum reopened in August 2020 following a programme of essential repairs and refurbishment.​
To thank National Lottery players for their support, the team will be offering free entry to the Cottage in addition to the free Bee Safer Cycling event. Anyone who presents any National Lottery ticket (digital or physical), scratch card, or Instant Win Game, on March 25 from 12-4pm, will be able to take up this special offer for one free admission.
Until May 1 you can visit the exhibition space to find out more about artist Nicki Jarvis' National Lottery Heritage Funded residency at Mrs Smith's Cottage.
Take a seat in the friendship chair, upholstered with a quilt embroidered with the names of Mrs Smith's friends, see 'behind the scenes' into how art and craft work was made for use inside the cottage, and find out how the Navenby Heritage Trail and its beautiful date stones were made.
​More details can be found on the Mrs Smith's Cottage website: www.mrssmithscottage.com