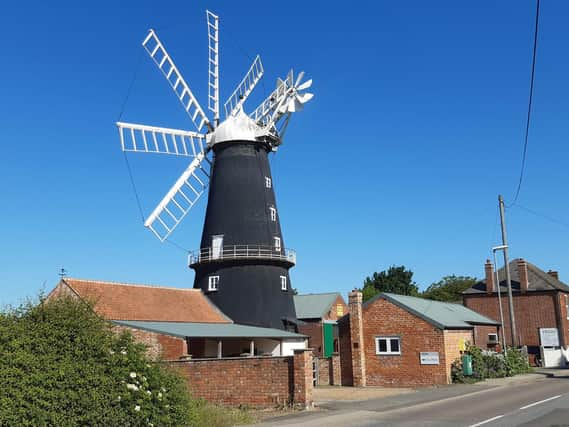 The series of four fascinating talks by local enthusiasts and specialists will brighten up the dark months of winter, hosted by Heckington Windmill from next month.
Each of the hour-long talks will start at 10.30am and entry is by ticket only priced at £3.50 per session.
On Monday February 20, Our Charity Service: Lincs & Notts Air Ambulance, will look at the amazing work of the air ambulance across the county.Then on Monday February 27 will see A Tale of Two Lancs' by Mike Chatterton, a former RAF pilot. With the aid of photographs and video clips he will describe his favourite moments flying the battle of Britain Memorial Flight Lancaster 'City of Lincoln' and taxying the Lancaster owned by Lincolnshire Aviation Heritage Centre.On Monday March 6 The Sage Gardener's Story sees Dave Newman talk about how he has worked to enable physical and mental wellbeing through connecting with the natural environment, through gardening, flower and rural crafts, wildlife and other activities.Finally on Monday March 13, Charles Pinchbeck will talk on the subject of Heckington Manor, which he now owns, giving an insight into the fascinating history of the manor and his project to restore it to its original splendour.
Tickets are available from the windmill reception, open Fridays, Saturdays and Sundays, 11am-4pm, or buy online at www.heckingtonwindmill.org.uk . If tickets are sold out online, check with the mill as there may be more available.
The tea room will be open 11.30am-3pm to buy coffee or lunch after the talks.
Also taking place from next month will be family fun with Mini Millers, an exciting activity and baking group for children aged 7-11 at the windmill on Sundays from 10am-11.30am costing £5 per session.
Upcoming Mini Millers events are:
Sunday February 19 – History quiz and baking scones.Sunday March 26 – Discovering wheat grain and making muffins.Sunday April 23 – All about cogs and making jam tarts.Sunday May 21 – The windmill speed governor and bake a pizza.Sunday June 25 – All about wind and baking cookies.Sunday July 16 – Bolting (sieving bran from flour) and making bread.