FEATURE: Bomber is the 'mane' attraction in campaign to save shire horses
​This handsome Shire horse is more than just a pretty face – he is part of a national campaign to save his breed.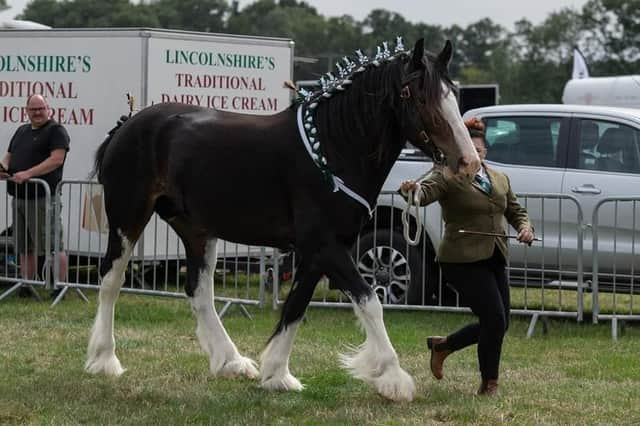 ​Bomber the Shire horse lives in Horncastle with his owners Eve Miller and Jon Davison, and attends events all over the country to promote the importance of preserving shires like him.
He first came to live with Eve and Jon in October 2015 on their farm as a six-month-old foal, fulfilling a life-long ambition of Jon's as he had worked with shires during a gap year on the Isle of Sark, where shire horses are still frequently used instead of machinery.
"He settled in right away and ruled the roost, which he still does!" Eve said, "I think he owns us as much as we own him!"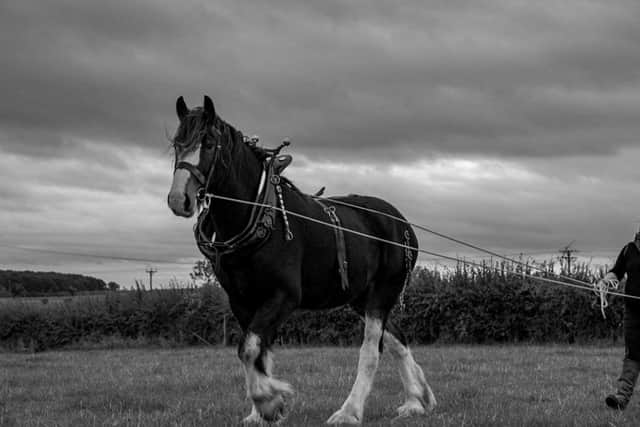 Bomber is now a much-loved member of the family and fits in well with the couple's other horses – Billy and Snickett, the Shetland pony – and at eight years old, now stands at 18.1 hands high – around 2metres tall – and weighs a whopping 900kg, around the same as an adult giraffe!
It wasn't until the couple researched the breed further that they realised just how endangered shires are, as according to The Shire Horse Society, shire horse numbers fell from more than a million to just a few thousand by the 1960s, and to date, there are just an estimated 2,000-3,000 shire horses worldwide.
"There's just something so special about them," Eve said, "The size of them and the power they have makes them our kind of horse, and when we found out how little there are in numbers now, we wanted to show how amazing they are."
Research by The Shire Horse Society shows that shire horses took over the jobs previously done by oxen on farms, such as ploughing, and by the 14th and 15th centuries, horses had become more common, especially for pulling carts and transporting goods.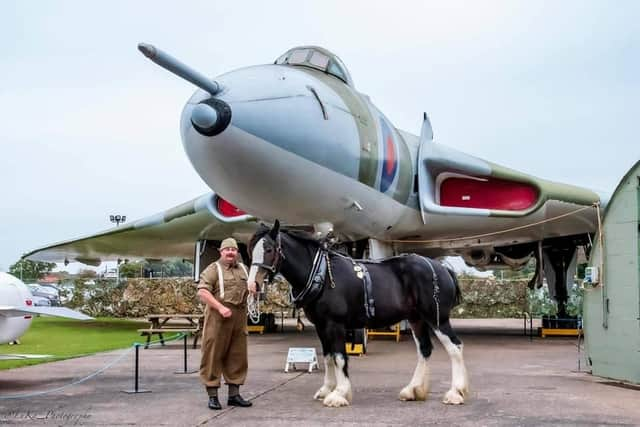 The 17th century saw an increased demand for travel by coach, and there was widespread breeding of this large and powerful horse, and by the 18th century, the improvements in carriage design and road surface meant that lighter faster horses were used for long distance driving.
The second half of the century saw the construction of a nationwide system of canals for heavy loads to be transported long distances, and the Shire horse was the ideal animal to pull the barges along the canals as well as hauling large wagons, drays, omnibuses, and trams.
Up until the last half of the 20th century, the horse was also the main urban means of transport, but from the 1920s onwards, the use of motorised transport rose rapidly, and the need for the horse declined with tractors replacing horses on farms and lorries replacing horse drawn wagons.
When numbers hit an all-time low, the Society introduced its 'Save our Shires' campaign in 2012 to raise awareness and increase public activity.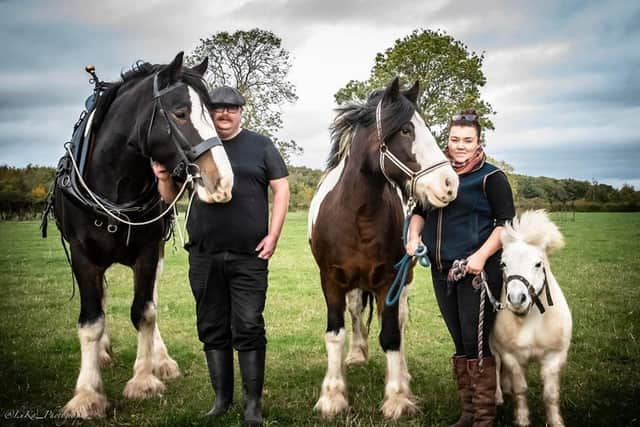 Look out for Bomber at his next events at Salute To the 1940s at Stapleford Park in Melton Mowbray on July 29 and 30, as well as Woodhall Spa's famous 40s Festival on July 8 and 9, and Alford's 40s festival on August 13.
Eve and Jon are keen 1940s re-enactors in their spare time, and they have been seen at events across the country, including the recent Great Central Railway in Leicestershire's 1940s Wartime Weekend and the 40s Weekend Melton Mowbray with Bomber to help promote the breed.
To ensure Bomber was not frightened by the sights and sounds of vintage events, the couple played sounds of gunfire, vintage tractors, and similar noises to him since he was a youngster.
"He's not bothered by this type of thing now – he gets more cross by a sign being in the wrong place now and throws a tantrum if there's a bird in a hedge that wasn't there before!" Eve laughed, "His breeders did a great job and now he's fine with militaria and vintage tractors and so on that you get at county fairs."
His first event was around four years ago at the Ludborough Wolds Railway museum, and since then he has appeared in events all over the country, becoming a familiar face now on the 1940s re-enactment event circuit, and now has his own Facebook page.
His first show of this year was the Melton Mowbray 40s Festival, and he received a hand-drawn picture of himself from a young fan, which now hangs in his stable in pride of place.
Eve said: "For people to know who he is and ask to see him is really humbling, that he's becoming so well known is amazing and he loves the attention!"
Northcotes Heavy Horses & Animals, located in Great Steeping, is a sanctuary offering heavy horses, such as shires, a safe and loving home, whether temporary or permanent.
The centre was created by Keith and Ruth Sanders in 1988 to create a "haven of rest and tranquillity" for visitors and horses.
Today, the Centre is a non-profit making organisation, run entirely by volunteers to create a home and caring facilities for horses with particular needs.
The sanctuary is currently in need of new volunteers to help care for their many animals, with tasks ranging from mucking out stables and grooming horses, to assisting with training sessions and helping with feeding and yard work and DIY jobs.