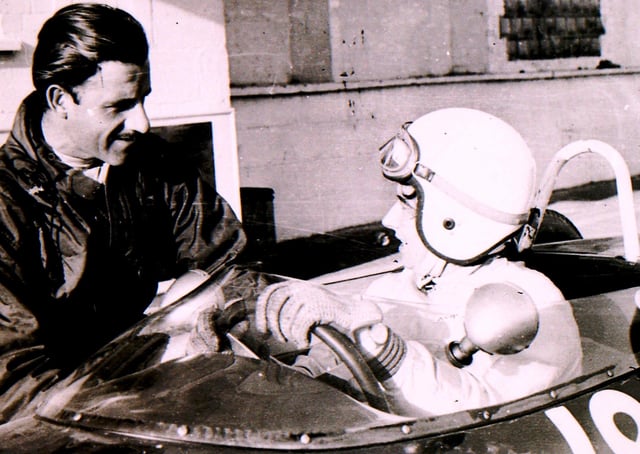 Formula 1 world champion Graham Hill shares a few racing tips at the Folkingham test site back in the sixties. EMN-210416-151006001
Bourne-based British Racing Motors (BRM) put Lincolnshire on the map in the motor racing world when it won the F1 world championship with legendary driver Graham Hill in 1962.
Its cars were completely British-built, designed to fly the flag and compete with the likes of Ferrari, Alfa Romeo and Maserati in the post-war years. Its founder in 1947 was Raymond Mays, pre-war racing driver, founder of English Racing Automobiles (ERA) and pioneer of the commercial motor racing industry. The team was sold to Sir Alfred Owen (the great Midlands industrialist) in 1952 and its fortunes changed for the better.
The team used the old RAF Folkingham airfield to test its race cars and the roaring engines could often be heard drifting across the surrounding fields for miles.
The all-British team's 1962 Formula 1 world championship win was celebrated on its 50th anniversary in 2012 when crowds of thousands descended on Bourne to watch many of the team's famous cars driven through the streets by Graham Hill's son Damon - another F1 world champion, joined by Hill's team-mate Sir Jackie Stewart.
Now the company is celebrating its 70th anniversary in style by fulfilling a long held ambition of one of the Owen family's oldest surviving members to see and hear the world famous Type 15 Mk 1 BRM V16, in action once again at racing speeds.
Sir Alfred's son, John Owen, 81, was just ten years old when he first heard and fell in love with the 16-cylinder 600-horsepower engine which can rev up to 12,000 revs – a sound widely acknowledged as one of the finest in the history of motor sport. The car was raced around the grand prix circuits of Europe by legendary drivers including Juan Manuel Fangio and Jose Froilan Gonzalez.
"Watching the likes of the Pampas Bull (Gonzalez) and, in particular, Fangio, master the power of the V16 was very special. The fabulous noise of the engine is still ringing in my ears 70 years on," said John. "In a selfish way, I have always dreamed of hearing that sound again and indeed would like to share that experience with others. To hear it for the first time, to hear the V16 screaming at full tilt, is something special to behold."
An example of the BRM V16 1950 in the National Motor Museum. SUS-140821-134749002
With originals being so rare, John realised the only way to see such a care at full racing speeds would be to build new ones. Now, in a unique partnership, historic automotive restoration specialists, Hall and Hall, based in Bourne, are using the 20,000 original hand drafted drawings they have acquired to re-manufacture a new forensically authentic example of the P15 V16 MK1 machine from the 1950s, piece by historic piece.
Hall and Hall founder, Rick Hall, is emotionally and professionally bound to BRM, having actually been part of their original Formula 1 team in the early 70's and together with his son, Rob, have since been providing authentic parts and technical support for the few cherished BRM machines still being raced in private hands.
The BRM team took a major step forward with its plans this last month to build three authentic 'new' 1950s V16 race cars with the successful test of an original engine after a painstaking restoration.
Hall and Hall, used the original 'engine number two' a V16 power unit dating back to the 1950s, to help engineers overcome the technical challenges presented.
Juan-Manuel Fangio at the wheel of the V-16 BRM F1 car at Goodwood in 1953 PP4801 PPP-150816-124942001
Rick Hall said: "It is a phenomenally complex engine, and there are a great deal of highly engineered parts to get right. Rebuilding and re-engineering many of the original parts has proved to be a key stepping-stone as we gear up for the manufacture of three all-new power units which will be at the heart of the new project.
"There is little margin for error with these parts, right down to 1,000th of a millimetre," he added. "For example, we had some earlier issues with the Rolls Royce supercharger, which we had to rebuild from scratch, so through trial and error we are flushing out these issues and also learning a great deal about how this engine behaves."
The re-built engine itself was 'cautiously' tested at Hall and Hall's dynamometer at RAF Folkingham, where the original BRM Formula 1 engineering team worked during the 1950s, and has featured in a new Youtube video of the team's progress.
This particular engine has not been run since one of the original BRM team drivers, Jose-Froilan Gonzalez, then 77 years old, accidentally over-revved it during the at BRM'S 50th Anniversary celebration at Silverstone in 1999. It was comprehensively 'lunched', according to Hall and Hall technicians and has remained in storage ever since.
"We didn't want to push it too hard on the dyno", said Martin Smith, Hall and Hall's chief engine technician, "but even so we estimate we got about 550BHP at 10,000 RPM and 2.5 psi – which is a huge step forward as we continue to build our experience and understanding of this astonishing engine."
The three 'new' P15 V16 BRMs have been made possible by the discovery of three unused chassis numbers which were originally allocated to the racing programme, but never built due to a change in the Formula 1 technical regulations at the time.
The first car has been commissioned by John Owen and is expected to be delivered and presented in public later this year.
You can view - and hear - the test run of the rebuilt engine here.