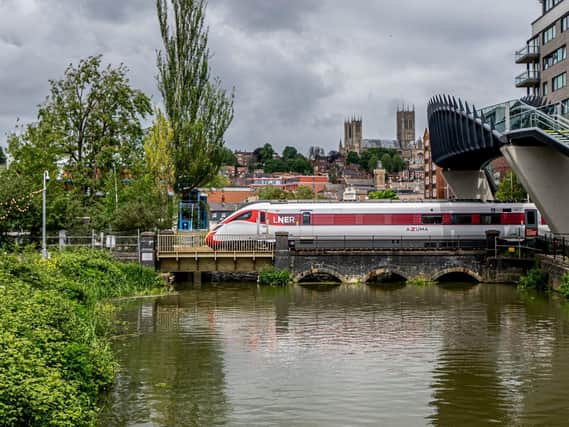 This special week-long campaign, in partnership with the tourism organisation Visit Lincoln will run to Sunday (July 4) and will showcase all that Lincoln has to offer, from its rich heritage, attractions and eateries to a host of family friendly activities.
Lincoln Week's launch comes as excitement continues to build in the run-up to the inaugural, LNER Lincoln Experience event which takes place on Saturday (July 3).
Customers can join the memory-making day trip by boarding the 08:06 LNER Azuma service from London King's Cross to Lincoln, calling at Peterborough, Grantham and Newark North Gate before arriving in Lincoln less than two hours later.
During the special journey, customers will be treated to the very best in LNER hospitality, with a Lincolnshire themed breakfast, and sample and savour locally produced Lincolnshire delicacies, including artisan cheese, award winning Lincolnshire plum bread, handcrafted tea and coffee.
They'll also receive a goodie bag worth more than £20 filled with further tasty Lincolnshire treats alongside exclusive offers and information on what they can discover during their visit to Lincoln.
David Horne, LNER Managing Director, said: "Lincoln is one of the hidden gems along the LNER route. All this week we'll be showcasing its sights and sounds and inspiring our customers to go and discover the city for themselves. "As we launch our first Lincoln Week, we'll be showcasing everything the city has to offer on our social media channels, including what locals think makes their city so special, as we encourage people to explore Lincoln for themselves.
"In cities like Lincoln, tourism is an integral part of the economy. We're proud to serve our towns, cities and communities and want to support them with events such as Lincoln Week."
Charlotte Goy, Chief Executive at Visit Lincoln, said: "Lincoln Week and the LNER Lincoln Experience event is focused on reaching people who have never been to Lincoln before – it is the perfect chance to discover by rail one of England's finest cities, steeped in history yet brimming with life. Lincoln's tourism experience is getting stronger and stronger thanks to the fantastic work of local businesses and city partners, and I guarantee that people will be surprised and delighted with what they find.
"Lincoln Castle has been voted the 'UK's Best Castle' by the great British public and has a 360- degree Wall Walk, new Magna Carta Vault, Victoria Prison and a stunning park which is ideal for picnics. Lincoln Cathedral's brand-new café and gift shop will also be open for the very first time, giving access to parts of the Cathedral that have not been seen for over 40 years.
"On your visit you'll also see a vibrant arts scene, the Brayford Pool waterfront area, superb shopping, excellent eateries, as well as a host of family friendly – and dog friendly – attractions. There really is something for everyone."
LNER's Lincoln Experience Event coincides with the launch of Lincoln Business Improvement Group's new Imp Trail which will see a series of 30 hand painted and mischievous looking imp sculptures displayed in key sites across the city, forming a fun trail for families to follow.
Lincoln Week will feature on LNER's social media channels until Sunday. LNER will be sharing short films and interesting facts about the city as well as sharing some of the top spots to visit.
Tickets for the LNER Lincoln Experience Event on 3 July are available at LNER's dedicated website, with the LNER Lincoln Experience Event service departing from London King's Cross at 08:06.
Customers can select their own direct return journeys on the same day, with services direct to London King's Cross departing from Lincoln at 15:24, 17:26 and 20:25.