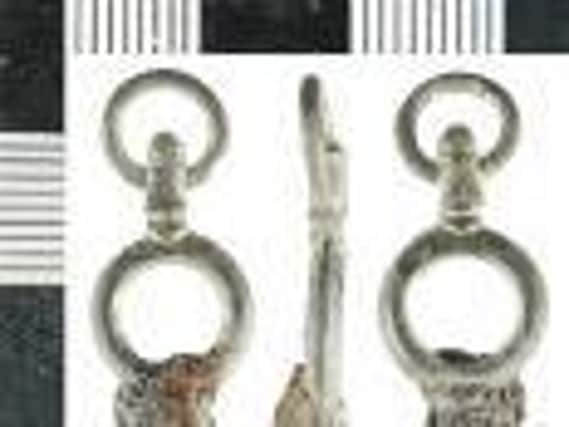 A Roman furniture fitting in West Keal, a post medieval musket ball at Burwell, a coin at Wainfleet St Mary, a post medieval bell at Market Rasen, a post medieval gold pin on the outskirts of Horncastle and a medieval dagger chape near Sleaford are among the finds.
New research by online metals retailer, metals4U, has revealed the most lucrative areas of the UK to go metal detecting, with many Brits looking for new outdoor pastimes to enjoy during their summer staycations.
Norfolk came out top in the UK, with over 6,500 discoveries in the last 12 months, including a Bronze Age sword and a Medieval chandelier.

In Norfolk, coins (2,142) were the most commonly found object, followed by buckles (450), pots (206) and brooches (201). Other interesting finds included a Bronze Age sword, a Medieval chandelier and various Post Medieval toys.
Many detectors dream of finding gold and in the last year, 216 items made from the precious metal were discovered in the UK. Hampshire was the gold capital, with 25 objects unearthed, including a stunning 7th-century pendant.
For those interested in the Roman period, Suffolk is the place to go, with over 1,500 objects found from that era in the past year. These included a copper ring and a folding knife that could date back to 43AD, when Emperor Claudius ordered four legions to conquer Britain.
This is not the first time Lincolnshire's rich heritage has hit the headlines.

Last year, it was reported a hoard of early fourth century Roman coins which was discovered by two metal-detecting enthusiasts was thought to be the largest haul of its kind to be found in Britain.
The discovery was made in July 2017 near the village of Rauceby, which detectorists 59-year-old Rob Jones and his friend Craig Paul, 32, had searched for years.
Lincolnshire County Council archaeologist Dr Adam Daubney said the coins may have been buried as part of a ceremonial ritual.
More than 3,000 copper alloy coins were examined by The British Museum for valuation.

A long-forgotten hidden hoard of Roman coins unearthed on farmland near Spilsby also came up for auction.
The complete 'Near Spilsby' collection of 281 Roman coins was discovered by two metal detectorists.
Mainly bronze coins, featuring they featured Roman emperor Constantine the Great and members of his family, would have been buried in the ground near Spilsby around 340 AD.
Metal detecting along the Skegness coast has also won five star reviews on Tripadvisor, with one visitor stating: "My husband used his metal detector on the beach outside of Butlins and all I can say this is the cleanest beach we have been to on the Lincolnshire coast.

"There is very few bottle tops and ring pulls. It is definitely a blue flag beach, spotlessly clean."
Lincolnshire's metal detection experts have also been in the spotlight.
Gary Drayton, who was educated in Spilsby and later lived in Boston, is a regular team member on the Sky History Channel's popular Curse of Oak Island series.
The petition was launched for Gary to have his own show after fans said he was the real reason why people watched.
The Curse of Oak Island follows the current multi-million pound effort to solve the mystery of a 230 year-old treasure hunt on the small island, situated off the coast of Nova Scotia, Canada.
10 regions with the most treasure discoveries in the past 12 months:

East Riding of Yorkshire - 1,322
Object type: KEY (LOCKING)
Workflow stage: Awaiting validation
An incomplete, cast, copper-alloy, medieval casket key dating to c.AD 1200-1400. The key has a flat circular loop, only half of it survives. The shank is rectangular in plan, oval in section. A T-shaped bit extends from the shank.
Broad period: POST MEDIEVAL
Workflow stage: Awaiting validation
A medieval lead vessel repair or pot mend with ceramic vessel fragment. An oval cast plug to mend a hole in a vessel wall, still attached to a ceramic vessel fragment probably of Lincoln Glazed Ware dating to the 13th-15th century. Mid-red orange oxidised fabric with sooted areas.
Object type: FURNITURE FITTING
Workflow stage: Awaiting validation
An incomplete cast, copper-alloy, Romano-British furniture fitting or vehicle fitting dating to c.AD 43-410. The furniture or vehicle fitting is in the form of a three-dimensional male figure standing erect with his surviving arms curved outwards away from his body, his legs are straight, slightly bent at the knee, and his feet are parallel pointed forward.
Workflow stage: Awaiting validation
A complete, copper-alloy, Roman-early medieval pair of tweezers c.AD 43-850. The flared blades are parallel-sided, beaten out and folded to shape. The wide flaring arms turn in at almost 90º. The tweezers hang from a thin, annular suspension ring with slip-knot through the loop. An incised marginal groove and a series of circular punch marks run parallel to each edge, terminating just before the loop. An additional series of circular punch-marks are located inside the outer marginal design, forming a sub-triangular shape.
Broad period: POST MEDIEVAL
Workflow stage: Awaiting validation
Copper alloy and steel watch winder. A probably die-stamped copper alloy loop with a projecting lug retaining a smaller [diameter 8.4mm] ring for attachment to a fob. Opposite this, a mass of ferrous corrosion suggests the decay of a steel winding key. Gilding traces appear on the lug. Suggested date: Post-Medieval, 1850-1900
Broad period: POST MEDIEVAL
Workflow stage: Awaiting validation
Lead musket ball. Cast ball with a circular dimpled ingate where lead was poured into a bullet mould. Patinated, with triangular indentations in its surface which might suggest this has been gnawed by rats or a small child. The mass, at over an ounce, may suggest this was for use with a smoothbore muzzle loading firearm of military specification. Suggested date: Post-Medieval, 1600-1800.
Workflow stage: Awaiting validation
A medieval gold quarter-noble: Edward III, 4th coinage. The coin has been lightly clipped removing parts of the outer edge and its inscription although this is not entirely clipped away. Dating to AD 1356-61
Location: 'Wainfleet St Mary'.
Broad period: POST MEDIEVAL
Workflow stage: Awaiting validation
Copper-alloy and gold pin of post-medieval date, c.AD1600-1700. A cast, broken pin or bodkin. Sub-rectangular in cross section. The object is curved, forming a D-shape, the widest end is broken, the object tapers to a blunt broken point. Patches of gold all around the object. Length: 40.84 mm; width: 35.99; thickness (widest end): 3.92 mm (tapering broken end): 2.55 mm; weight: 8.39g This object resembles the shaft of a post-medieval dress pin.
Location: 'Outskirts of Horncastle'.
Workflow stage: Awaiting validation
A post-medieval cast copper alloy dagger Chape. The top of the chape has a crenelated edge. Below this is an openwork panel, which leads to a scallop-shaped base. Several similar scabbard chapes have been recorded on the PAS Database. All are considered to be Late Medieval to Early Post Medieval in date c. AD 1450 to c. AD1550.
Location: 'Sleaford area'.
Broad period: POST MEDIEVAL
Workflow stage: Awaiting validation
Copper alloy and iron bell. Cast spherical one piece bell with a rectangular top loop. An iron clapper is suggested to remain within, as suggested by extruded rust. Two opposed blowholes appear in the upper part of the bell, and two similar sounding holes linked by a slot in the lower part. A circumferential rib marks the meeting of the two parts of the form. Suggested date: Post-Medieval, 1600-1700
Location: 'near Market Rasen', grid reference and parish protected.
While some of the laws surrounding metal detecting in the UK are common courtesy i.e respect the Country Code, others are more specific.
If you find any live ammunition or a lethal object, you are not able to tamper with it as it is a massive health and safety risk. Instead, mark the site and report it to the local police and landowner.
While you need permission to venture onto any land that is not public, it is especially illegal for anyone to use a metal detector on a designated area without permission from authorities. This includes Site of Specific Scientific Interests, Ministry Defence Property of Scheduled Monuments.
The Treasure Act is a law that has been in place since 1996 and is obligational. Anything you find that falls into any of these categories must legally be reported:
The object is gold or silver
You have discovered a group of coins
Your item is over 300 years old
Any object that was found in the same place or is in the same collection as Treasure previously recorded
The object is of a prehistoric date and any part of it is precious metal
Any potential finds of treasure must be reported within 14 days of discovery to the Coroner in whose district they were found.