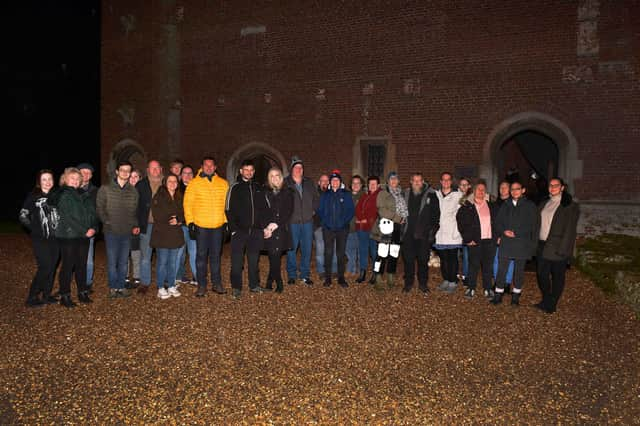 Meeting the ghosts of Tattershall Castle
When it was announced that a paranormal investigation would be taking place at Tattershall Castle, I just had to go along and find out more.
Published 30th Oct 2023, 09:45 GMT
Updated 30th Oct 2023, 10:53 GMT
As a believer in the paranormal, I was intrigued to find out more about the history of the castle.
The castle was originally built in 1231 by Robert de Tateshale on orders of King Henry III to build a crenelated manor house out of stone at Tattershall.
The castle was then inherited by Lord Cromwell in 1419, and when he became Lord Treasurer of England in 1434, he set about renovating and extending the castle in a newly fashionable and expensive material – brick – and had the inner moat widened.
Upon Lord Cromwell's death, without a direct heir, the castle passed into the Crown's possession who subsequently granted it to royal family members and, latterly, Charles Brandon in  April 1537 as thanks for his assistance in stopping the Lincolnshire Rising.
The castle was then inherited by the Clinton family,and in 1693 the last Earl of Lincoln died, and the Fortesque family inherited the castle but never lived in it and over time, the castle was abandoned.
In 1910 the castle was sold to an American consortium and in 1911 Reverend Yglesias of the next-door Holy Trinity Church contacted Lord Curzon of Kedleston to help save the castle from destruction, and Lord Curzon indeed bought and restored the buildings.
In August 1914, the castle was opened as a visitor attraction and when Lord Curzon died in 1925, Tattershall Castle was bequeathed to the National Trust.
With so much turmoil and hundreds of years of history in one castle, you'd think that there would be some restless spirits still residing within its walls, and indeed Rupert Ibbotson, the castle's Senior Visitor Experience Officer, said that a number of visitors and staff alike have experienced something at the castle:
"Two staff members have had experiences," he said, "One has seen a lady on the third floor in a private chamber, and another has always felt a sensation in one of the corridors on the ground floor level.
"There's a long-standing ghost story about a white lady who has been seen on the battlements too, and a few people last year felt anomilies there as well."
There were around 30 of us – of whom around two-thirds are believers in the paranormal and the remainder were sceptics – who met the Haunted Heritage team, who conduct paranormal investigations across the Midlands, at the castle on Saturday night (October 28).
Once Haunted Heritage founder Gill, a psychic medium, opened with a protective incantation to prevent more malevolant spirits from harming us, we were split into three teams and set off to different parts of the castle with Gill, as well as Will and Andy from the Haunted Heritage team.
Our group made our way up to the Private Chamber, where we were given a number of pieces of paranormal investigative equipment to use, including small balls which flash when moved, EMF meters which measures the changes in electromagnetic fields, a music box, dowsing rods, and a word generator which is pre-programmed with thousands of words and allows spirits to use energy to generate relevant words.
Shortly after we entered the room, the word generator started throwing up eerie words and phrases including 'adultery', 'please help', 'tied', thrown', 'against', 'bad feeling', and 'sister', and a photo taken in an anti-chamber also showed what could be an orb (balls of light thought to be the manifestation of energy).
After a short tea break, we then moved on to the Great Hall on the ground floor, where a smaller room off the main hall made several members of the group feel very sick and uneasy – which National Trust team members confirmed had happened previously where guests felt unwell in that room.
Loud bangs on the main door to the hall were heard during a vigil in the Great Hall, and the children's noughts and crosses board left in there from the castle's half term activities also moved.
A photo was taken down a short corridor just off the hall after members noticed a shadow moving past the light under the door, where a shadowy figure could be seen stood in front of the door, and a member of our group suddenly had the feeling of great sadness and heaviness on his shoulders.
Finally, we moved down into the basement cellar area of the castle where a free writing tool was used for spirits to manipulate the pen to write down words.
Some interesting information that came out of the experiments was the name Dorothy, who using the board and word generator, told us had worked in the castle as a nanny to the Lord's children and had been punished for something that wasn't her fault, and a smaller room's EMF meter started to go off repeatedly shortly after.
Whether or not we communicated with Tattershall Castle's ghostly inhabitants on Saturday night, I'll leave to the readers to decide, but there were certainly some things which we couldn't explain.