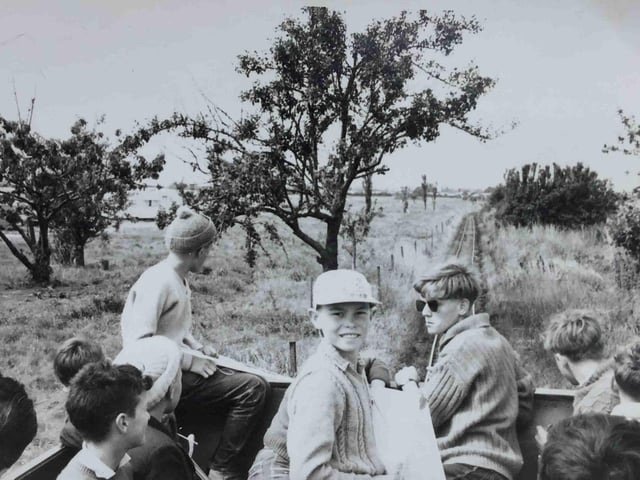 Photo: Michael Prior/CCLR/LCLR.
The railway which is based at Skegness Water Leisure Park, has been unable to open this season because distancing would make it financially not viable to run trips along the line.
However, the photographs were unearthed at the Cleethorpes Coast Light Railway during a clear out of old cupboards, raising much interest.
Cleethorpes Coast line asked supporters of the Lincolnshire Coast Light Railway - which once operated at Humberston, close to what was then the Cleethorpes Miniature Railway - for any old photos, which may have been sitting in dusty files or cupboards and forgotten about.
Photo: Michael Prior/CCLR/LCLR
That turned up several previously-unseen photos, which have been given to the Cleethorpes line and published on-line and in specialist and local media.
Now a new trio has been discovered – this time sent to the CCLR, who in turn have sent them on to their "neighbours", the LCLR.
The photographs were taken by a Michael Prior, now 78, back in the summer of 1962 when he was helping to look after a group of boys camping at what was then the YMCA in Humberston.
He particularly remembers the "photogenic" qualities of the LCLR's steam locomotive Jurassic, which dates from 1903, and how much the boys enjoyed their ride behind the LCLR's locomotive No. 1 = a Motor Rail Simplex diesel subsequently named Paul.
Photo: Michael Prior/CCLR/LCLR
The photograph of Jurassic with an open carriage shows it departing the HQ at North Sea Lane station; the two photos with the boys show their train at the original beach station.
Meanwhile old and/or previously unseen photographs of the Lincolnshire Coast Light Railway at either Humberston or Skegness and the Cleethorpes Coast Light Railway in its Cleethorpes Miniature Railway guise, are very welcome and can be sent to [email protected] or [email protected]