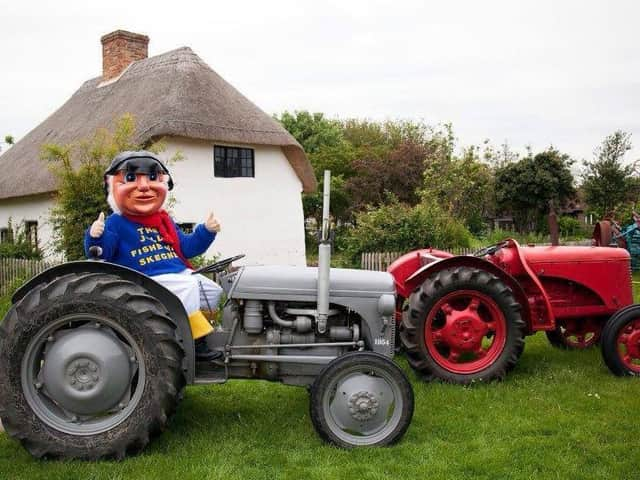 The Village Church Farm in Skegness needs volunteers.
The Village Church Farm has a number of opportunities, including Tour Guides, Shop Assistants, Team Room Staff and Gardeners.
A hidden gem of the East Coast, situated in Church Road South, the museum gives visitors a glimpse of agricultural life.
It features a Victorian thatched 'mud and stud' farm labourer's farmhouse, Bob the traction engine and much more.
Built in 1760, it is the second oldest building in Skegness closely followed by the Vine Hotel, which was erected around the 1770s.
Back then, the farmhouse was actually called Holly House, and the name of the farm wasn't changed to Church Farm until some time around 1890s, some 130 years after it was built.
The tenants in 1766 were called Enderby, and they rented 80.5 acres for £88 per annum. Church Farm records show a good picture of rising prices eventually reaching £194 at the end of the Napoleonic Wars.
All tenants of the Earl were required to sign a contract promising to obey the Earl's conditions for farming his land. Tenants could not plough up grassland without permission – that would result in a £10 per acre fine. They could also only plant a quarter of an acre of potatoes, and had to obtain the Earl's permission if they wished to sub-let the farm land or the house.
Going back to the 1840′s Skegness was still a small settlement, approximately 180 inhabitants. Church Farm at this time was mostly pasture, which would have been good grazing. Only 15 acres were attached to the farm, which is now a car park and factory area.
In 1849 a 29-year-old Burgh le Marsh man, John H W Grantham, a maltster by trade, took the tenancy. He continued to live in Burgh, using the fields to fatten his livestock during the summer months. By 1861, he was running a 370 acre farm in Burgh, married with four children and employed 3 house staff.
At the beginning of the 1870′s the ninth Earl of Scarbrough began the redevelopment of Skegness. Farmers in Skegness who were the Earls' tenants found their land being taken for houses, but Church Farm escaped the worst of the redevelopment, with only a portion of its 10acre field taken.
By 1962 only 39 acres of land remained. In 1974 Church Farm – which compromised of just under 3 acres and the farm buildings – were sold to the district council for £48,000. At the same time, Lincolnshire County Council had acquired from other sources the farm implements and machinery collection of the late Bernard Best of Bratoft and the offer of housing the collection at the then new Church Farm Museum was gratefully accepted.
Two years later in 1976, Church Farm Museum opened its doors for the very first time.