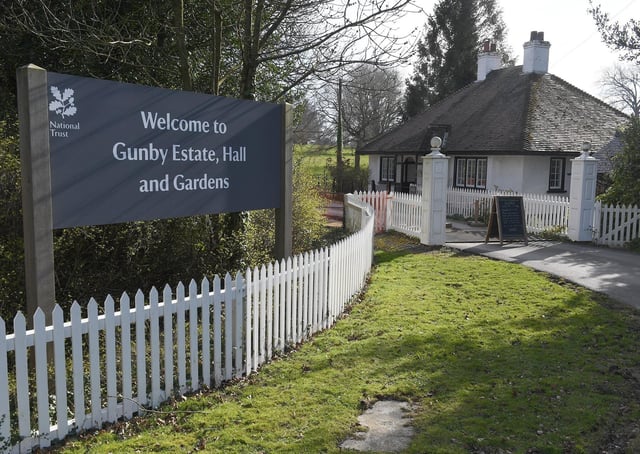 Gunby Hall Estate,Hall and Gardens (photo by David Dawson)
Gunby Hall, near Skegness, is one of just four properties across Lincolnshire under the care of the conservation charity and such has been the reaction to the plans put forward, an online petition set up to stop the proposals becoming reality has attracted 1,000 signatures in less than a week.
Leading the fight to keep Gunby open to visitors is Steve Hill-Andrews, who has been a room guide at Gunby since 2017.
He said: "The proposal goes against everything the National Trust stands for.
"Not only that, it is obverse to the main tenet of the trust being for 'everyone and forever'.
"To turn Gunby into a tea room and holiday accommodation, when there are few National Trust properties in Lincolnshire, is ill advised.
"Furthermore, this would deprive the general public of the opportunity to visit this unique house; once described as a 'Doll's House', with its authentic collection and a special family home."
Gunby Hall was the home of the Massingberd family for more than 250 years and was given to the National Trust in 1944.
Other volunteers have echoed the points put forward by Mr Hill-Andrews.
One of those is Tessa Holdaway, who has been a National Trust member since 1973 and a volunteer at the property for the past seven years.
She said: "I was dismayed to learn of the plans.
"Both volunteers and staff have worked hard since 2012 when it ceased to be tenanted and became open to the general public throughout the week. It has served this part of Lincolnshire well.
"As it's main raffle ticket seller, I have sat at the tables in the tea room and courtyard and listened to the praises of thousands of people who love its gardens, the intimacy of the hall, the opportunity to enjoy the open air theatre on the summer, as well as its Regency and Apple days and the antics of its cats.
"It pays its way, raises a profit and gains members [for the National Trust], who continue their membership because it is local.
"I am tired of supporting an organisation that in this present climate has shown little regard for the army of dedicated staff and volunteers.
"I wonder how many members will be lost through this action."
The Rasen Mail contacted the National Trust about the proposals.
A spokesperson said: "Our charity has lost £200m as a result of the coronavirus, and we need to reduce our budgets to save about £100m. As such, we are currently looking into numerous proposals to save costs and generate more revenue across the entire organisation.
"One proposal includes an afternoon tea offer as part of the house experience at Gunby Hall, Estate and Gardens, with longer term thoughts around potentially repurposing areas of the hall into holiday accommodation.
"All proposals are subject to an ongoing consultation with staff and volunteers, and are as such only proposals at this time.
"Since re-opening after lockdown, Gunby has seen a huge uplift in visitors wanting to explore the land, outdoors and nature that the gardens and wider estate has to offer. In response, we will be expanding our outdoor visitor-led offer for all visitors, walkers and families alike.
"Our new all-weather car park means that we are already starting to work on plans for the winter, to ensure that we make Gunby accessible to our existing and new visitors all year round.
"We also intend for the property to continue to host third party events similar to our previous 'The Tiger That Came To Tea' exhibition, and successful events such as outdoor concerts and theatre."