Remains of British explorer Matthew Flinders to finally be reburied in Lincolnshire village
An eighteenth century British explorer is set to make his final voyage when his remains are brought back to his home county of Lincolnshire.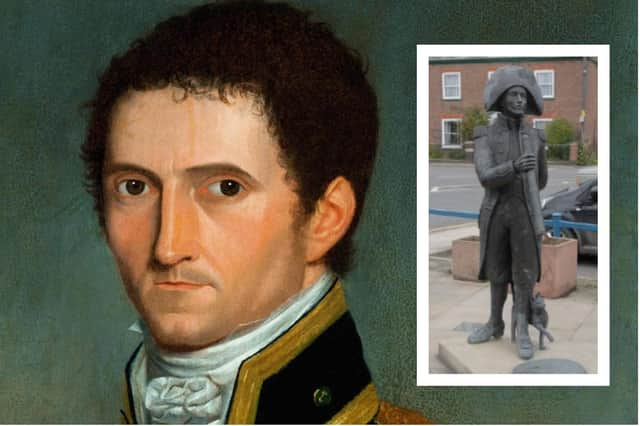 Donington-born Captain Matthew Flinders famously led the first circumnavigation of Australia and is credited with giving the country its name.
Now his remains, discovered in London four years ago, will be brought back to the village he grew up in.
Although it was believed Flinders was buried somewhere near Euston Station in 1814, his exact final resting place had been all but lost to history since the mid-nineteenth century until it was unearthed during a HS2 rail project dig in 2019.
Now a date has been finally set for Captain Flinders to be reburied with a suitable memorial in the church of St Mary and the Holy Rood, in Donington.
The move will mark the end of a successful campaign by the group Matthew Flinders Bring Him Home (MFBHH) – which has been working on returning the famous explorer to his home village since his grave was found.
The project can now go ahead thanks to a £35,000 grant, which has been awarded to the group by the Government's Shared Prosperity Fund.
Jane Pearson, chair of the MFBHH group said: "Our group has been successful in being awarded a grant of £35,000 towards the return and reburial of the remains of Captain Matthew Flinders in the Church at Donington. The remains would have been returned in 2020 but, as with everything else, progress was stopped due to Covid.
"Plans are now back on course for the return to take place in July 2024."
It is hoped that church services of remembrance will be held, with one educational service focussed on pupils from local schools.
"This is a huge honour for Donington to have this service as he was born in the parish and many of his relatives have been buried here – it seems like the right thing to do." said Mrs Pearson.
"We hope also to have the involvement of the Royal Navy and for the whole event to be an occasion for Donington to celebrate and to remember."
"We are very grateful to have the support of Bishop Nigel on behalf of Lincoln Cathedral who will be co-ordinating the services, and we have received the faculty giving us permission to go ahead with the burial in the church.
She added: "Inevitably it will be costly as being in church, the ledger stone has to be created to be similar to the ones already there - which are mainly 18th century - and of course we have to work within church guidance for creation of the grave."
Although Matthew Flinders is credited with giving Australia its name, he was not the first to use the term. However, his work, including his book and atlas A Voyage To Terra Australis popularised its use, ensuring his surname is forever associated with Australia. In fact, many places Down Under now carry his name – including Flinders Station in Melbourne, the town of Flinders in Victoria and Flinders Ranges in South Australia.
Born in Donington on March 16, 1774, Flinders died in London aged just 40, on July 19, 1814.