Vote for Bomber as Horse & Hounds' Horse of a Lifetime
​After wooing audiences across the county and beyond with his handsome looks, one of Horncastle's four-legged celebrities is now up for a top award.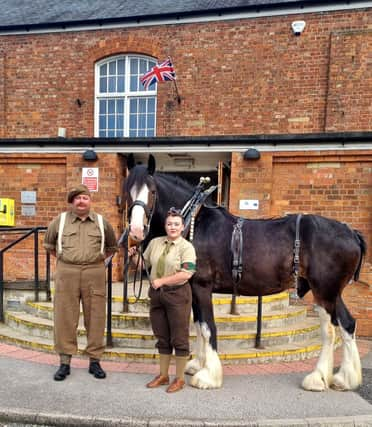 ​Bomber the Shire horse lives in Horncastle with his owners Eve Miller and Jon Davison.
Standing at 18.1 hands high – around 2metres tall – he weighs a whopping 900kg, and attends events all over the country to promote the importance of preserving shires like him, as there are just an estimated 2,000-3,000 shire horses worldwide.
He was most recently seen at Woodhall Spa's 1940s Festival and Horncastle Horse Fair last month, attending a free screening of War Horse at Stanhope Hall, hosted by Joe Richardson, a West End actor and puppeteer from the international tour of the National Theatre's 'War Horse'.
And now, Bomber has been nominated for a coveted Horse & Hound magazine award, in the category of Horse of a Lifetime.
The category celebrates horses who "may not be a megastar, but has changed lives and deserves recognition for what he has done for people".
This is a new award introduced last year, and the inaugural winner was Carltonlima Emma, the late Queen Elizabeth II's beloved hack.
Eve said: "We are absolutely delighted to hear that a couple of kind people have nominated Bomber for the Horse of a lifetime category in this years Horse & Hound awards!
"While we are humbled, we'd also love for Bomber to get the recognition he deserves. He will always be our Horse of a lifetime, but if you could spare two minutes of your time to also vote for him, we'd be eternally grateful!"
By coincidence, Bomber's farrier – Matthew Strawson of Brook House Forge in Louth – has also been nominated for the Farrier of the Year award.
The winners will be announced at the Horse & Hound Awards Ceremony, which will take place on November 22 at the IXL Events Centre, Dallas Burston Polo Club in Warwickshire.