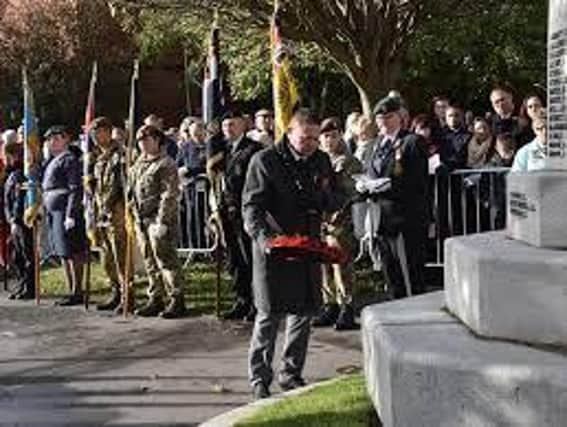 Skegness Town Councilat an emergency meeting on Friday pulled the plug on plans to save the day due to a tightening of Covid-19 restrictions nationwide .
"We are disappointed, but looking at what is happening nationally it seemed to be the right thing to do," Mayor of Skegness, Coun Mark Dannatt told the Standard.
"However, we are exploring ways the community can still pay tribute to our war heroes - including videoing a private service and wreath laying that can go out on the internet on Remembrance Day."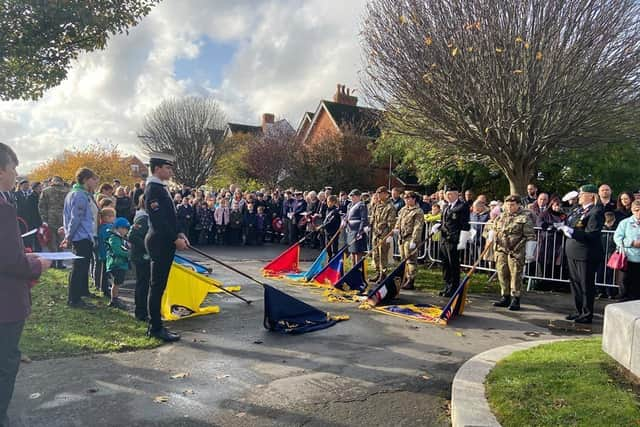 It had been hoped a gathering of less than 100 representatives of the armed forced and local organisations would be invited to gather socially distanced around the bandstand in Tower Gardens for the laying of wreaths.
"We were concerned the public may wish to attend and it would be difficult to keep them socially distanced - and this would also apply if we held a private service at St Matthew's Church on Remembrance Day," explained Coun Dennatt.
The decision comes not only in line with Covid-19 restrictions but after Skegness Town Council recognised big changes would have to be made to the organisation of this year's event because of dwindling numbers of local Royal British Legion members due to age.
Until now, Skegness Town Council had been responsible for organising the road closures, marshalls and crowd control around the memorial. They also arranged for the parade order of service to be printed once it had been confirmed by the RBL members.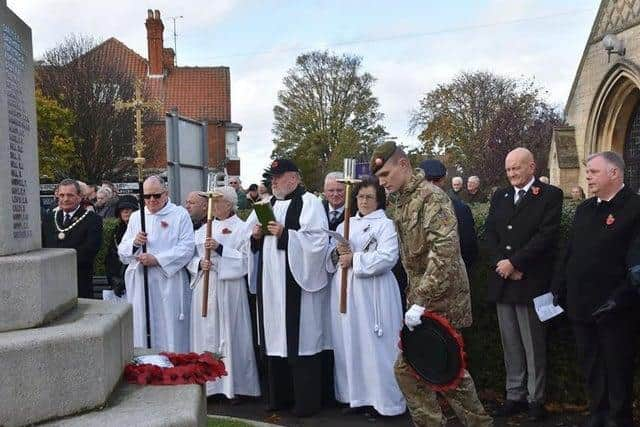 Remembrance Day on Sunday, November 8, had been expected to be especially poignant as it marks five special dates this year, including the Korean War, VE Day, VJ Day, Remembrance Day and Armistice Day
Coun Adrian Findley had been working with the Skegness branch of the Royal British Legion to find a format that would be possible and has since become an RBL member.
He said: "As a local resident for 51 years, I was extremely concerned for the branch's future.
"Since joining the RBL and becoming a branch member I have been privileged to make new friends, most of which are ex-military.
"At the first meeting, there were only six members - including Michelle Smith who was secretary and chaired it to keep it running single-handedly until help arrived.
"I am now the social secretary, although activities are currently limited due to Covid."
The new chairman is Paul Dixon. Mr Dixon, who owns the New Park Club where the RBL branch is now based, was in the army until 2004, when he was medically discharged.
"When I left the army, I approached the local branch for assistance but at the time there was no-one to help me and my family," said Mr Dixon.
"I feel we, as a community support group, should be here, even if it's just to point people in the correct direction.
"The Legion is for all services and their families and we have now formed a new committee."
So far most meetings have been via zoom, and the branch has also been looking at how Remembrance Day can be honoured.
"We are waiting to see what we are allowed to do before we can announce anything," said Mr Dixon.
"Even if we do a similar event as we did clapping for the NHS and key workers we would still be paying our respects - for example two-minutes silence followed by clapping.
"But we will remember them."
The new committee has been welcomed by local RBL members.
President Mick Rust of Wainfleet RBL said the ideas for Remembrance Day were "food for thought".
"Skegness RBL seems to be enthusiastic for their branch to grow and support the area."
Dave Tyler, county training officer and branch chairman at Mablethorpe, said: "Skegness branch is trying to rise from the ashes and are very positive and eager to develop."
Flight Lieut Simon Withall, senior commanding officer at Skegness Air Cadets, said: "I went to the first meeting at the New Park Club and it was good to meet new people and other ex-forces personnel and to let them know what we do as an organisation and what we want to achieve.
"We are pleased to be invited to lay our wreath at the Remembrance Day event organised by the council.
"We understand how difficult it is in these times to make arrangements."
*For more details visit The Royal British Legion - Skegness branch.
COUNTY COUNCIL AND POLICE COMMITTED TO SUPPORTING PARADES
Lincolnshire County Council and Lincolnshire Police are offering advice and guidance to help Remembrance Parades run smoothly this year.
The offer of further support comes after The Royal British Legion published new guidance that says Legion members cannot be involved in the organising or facilitating of road closures for Remembrance parades.
Instead, any road closure for a parade should be organised by the local civic authority – for example the town or parish council.
This change in guidance comes after an incident where a member of the public was injured at a Remembrance parade in 2018.
Event organisers will also need to adhere to Government guidelines on social distancing this year, and the council and police are able to offer advice to them on safety at their events.
Karen Cassar, assistant director for highways at Lincolnshire County Council, said:
"We have delivered awareness and safety training to over 100 Remembrance parade organisers since 2018, and we're continuing to offer help this year.
"Last year there were 35 Remembrance parades across Lincolnshire. We have written to event organisers to alert them to the change in The Royal British Legion's policy. In some areas, road closures are already organised by the town or parish council, but those that aren't, or which use British Legion volunteers to facilitate the closure, will need to make alternative arrangements."
Chief Inspector Phil Vickers from Lincolnshire Police said: "A parade is not the Remembrance service in itself.
"But some areas in the county have enjoyed a long history of holding a parade on the public highway as part of their Remembrance. Parade organiser will just need to take stock of their plans this year, to make sure they can still go ahead.
"Lincolnshire Police and the county council are fully supportive of Remembrance Day parades, so please get in touch with us if you are unsure how Covid-19 restrictions or the new British Legion guidance will affect your event."
For further support planning road closures for Remembrance Day services in Lincolnshire, please contact the Events Management Team at Lincolnshire County Council on [email protected], or Lincolnshire Police Ops Planning Team on [email protected]