When Prince Philip met RNLI heroes on 30th anniversary of the east coast floods
A local photographer has recalled the sleepless nights he spent before covering the visit of the Duke of Edinburgh on the 30th anniversary of the east coast floods.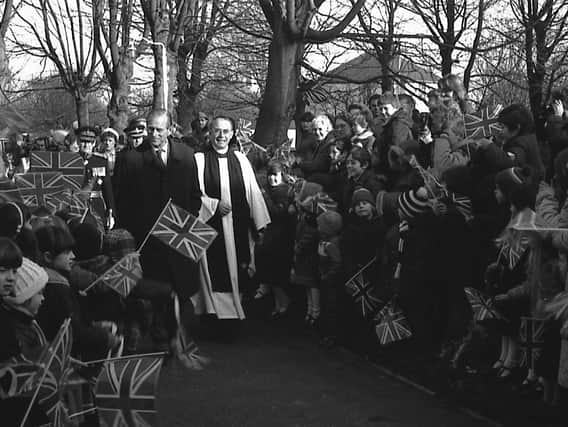 Ben Hardaker and Skegness Standard photographer the late Eric Spencer were at the scene on February 4, 1983, when Prince Philip landed by helicopter at the Tennyson School field in Mablethorpe.
The Prince was greeted by the then mayoress of Mablethorpe Peggy Winterton and the chairman of ELDC Rousevelt Wilkinson.
The visit took in St Mary's Church, the Rotaset factory, Mablethorpe RNLI station and a display of photographs of the 1953 floods by Anglian Water on Sutton pullover.
At the end of the visit the Duke donned his pilots gear and flew the Westland helicopter himself.
Paying tribute to Prince Philip, Ben recalled: "As one of the early assignments in my photographic career it was an honour to be able to gain access to this event and picture the Duke at close quarters.
"I spent two weeks of sleepless nights beforehand and was still nervous as I drove up to Mablethorpe that sunny morning, but once the helicopter touched down at Tennyson School the nerves disappeared.
"There wasn't time to be nervous after that as the event seemed to move like lightening and before I knew it the Duke was back in the helicopter and flying home. I still remember the briefing beforehand though, one of the people from the Central Office of Information took me to one side and said 'keep an eye on the big man close to the Duke, he's there to help, but follow his instructions - because he's the one with the gun'.
"I don't know what other security there was at the time, but it was certainly discrete."