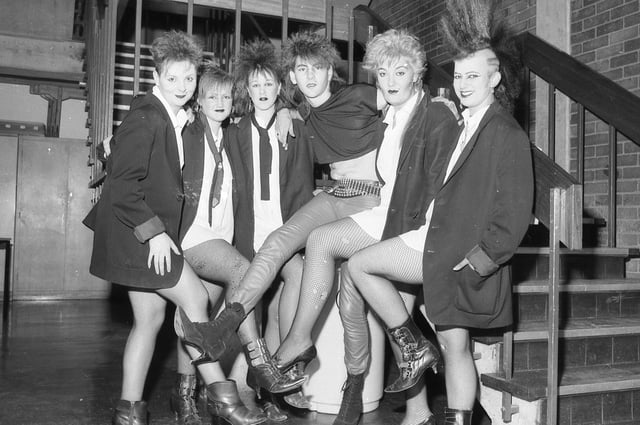 Pictured (from left) students Jackie Blackburn, 17, hairdresser Julie Lake, 18, Elaine Taylor, 19, Paul McKenna (21), Jayne Killick, 20, and Jo Butler, 17.
Five girls wearing fishnet stockings and black jackets went through a sexy dance routine around a male model dressed in skin-tight red leather trousers and stiletto heel boots.
Hundreds of schoolchildren saw four performances of the show, which was coupled with a less daring routine.
The performance was initially deemed inappropriate for VIPs visiting the next day, but a decision to remove it from the programme was later reversed.
Speaking before the ban was lifted, model Elaine Taylor, 19, sad: "It wasn't obscene or offensive or kinky, and you see worse on television every day."
Mayor of Boston Coun James Alcorn said he had met the students.
"They were all lovely," he laughed. "The styles were rather curious, but they had obviously put a lot of work into the show. These things must be very difficult styles to put together and the final effect was very arresting."