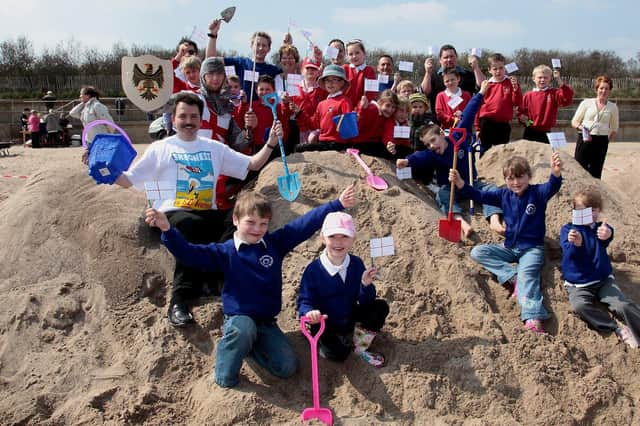 Breaking world records in Skegness 10 years ago.
The 277ft dragon was built on St George's Day as part of ongoing work to clear sand from the resort's walkways and paths.
Construction firm Morrison Groundwork pitched in on the day to make a major indent on the task.
"They were working nearby and wandered over to see what the day was all about," said project co-ordinator Michael Scallan. "We enticed them with a bacon sandwich and within two hours Morrison's digger had removed 20 tons of sand and uncovered 50ft of path,"
'Coastal Access for All' leading figure Paul Marshall surveys the work being undertaken by Morrison Groundwork on Sea View Walk, as volunteers continue to construct the record dragon on the beach.
"I'm over the moon and now hoping that other companies might wish to help deliver what is a community project."
Until Morrison Groundwork intervened, volunteers from the HOPE (Help Other Projects Evolve) program at Witham Lodge had largely performed the sand clearing by hand.