Thousands of driving tests have again been cancelled as driving examiners around Britain go on strike.
Learners in Scotland, north-east and north-west England, and Yorkshire and the Humber have already been affected by strikes this month, with tests in parts England and Wales due to be disrupted between Monday 24 April and Friday 28 April.
The latest action follows strikes at test centres in December, January and March that saw thousands of tests cancelled. The PCS says the December and January's action cost the DVSA more than £2.8 million in lost driving test revenue, with thousands more learners set to be affected by the lastest strikes.
The strikes do not affect theory tests but do affect candidates sitting car, motorcycle, lorry, bus, coach and tractor tests in April, as well as trainee driving instructors sitting their ADI part two or three tests.
The action leaves learners who have already endured two years of disruption, cancellations and long waiting lists facing even further issues and the possibility of having their scheduled test cancelled again. Recent figures revealed that candidates in some areas face a wait of up to six months to get a test appointment as almost half a million learners try to secure a slot.
What if my test is affected?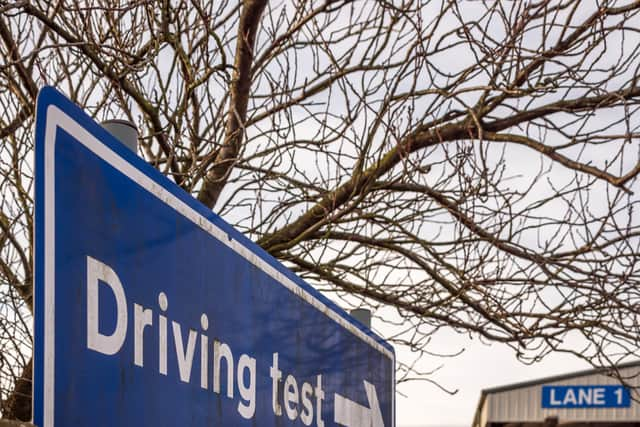 If you choose not to reschedule, the DVSA says you should still attend your test appointment as scheduled on a strike day unless it has contacted you and told you not to go. If your test is cancelled due to the strikes, it will automatically be rebooked by the DVSA and you will receive details of your new test date within 10 days. You will also be able to claim out of pocket expenses if you travel to sit a test and it is cancelled.
When are driving examiners on strike?
DVSA staff are striking on a region-by-region basis, taking two days of action in each area on the following dates:
Monday 24 April and Tuesday 25 April - East of England, East Midlands, West Midlands and parts of London
Thursday 27 April - London, south-east England, south-west England and Wales
Friday 28 April - All areas of Great Britain
Which test centres are affected?
The PCS has given the DVSA a list of test centres where examiners will go on strike. The agency has also warned that other centres could be affected but it will not know this until the day of the action. Not all examiners are members of the PCS union, so tests at other centres could go ahead. Friday's action - part of a nationwide strike involving 133,000 civil servants - is likely to affect most test centres, although the DVSA has not issued a full list of affected sites.
So far the full list of affected centres for Monday 24-Thursday 27 is as follows:
Monday 24 April and Tuesday 25 April - East of England, East Midlands, West Midlands and parts of London
Ashfield,
Barking (Tanner Street)
Barnet (London)
Basildon
Birmingham (Garretts Green;Kings Heath;Kingstanding; Shirley; South Yardley;Sutton Coldfield)
Bishops Stortford
Borehamwood (London)
Boston
Brentwood (London)
Burton on Trent
Bury St Edmunds
Buxton
Cambridge (Brookmount Court)
Chelmsford (Hanbury Road)
Chesterfield
Colchester
Coventry
Derby (Alvaston)
Dudley
Featherstone
Goodmayes (London)
Grantham (Somerby)
Hinckley
Hornchurch (London)
Ipswich
Kettering
Kings Lynn
Leicester (Cannock Street)
Leicester (Wigston)
Leighton Buzzard (Stanbridge Road)
Letchworth
Lichfield, Lincoln
Loughborough
Loughton (London)
Lowestoft (Mobbs Way)
Ludlow, Northampton
Norwich (Jupiter Road)
Norwich (Peachman Way), Nottingham (Chilwell)
Nottingham (Colwick)
Nuneaton
Peterborough
Peterborough LGV
Redditch
Rugby
Shrewsbury
Southend-on-Sea
St Albans
Stafford
Stevenage
Stoke on Trent (Cobridge)
Stoke on Trent (Newcastle under Lyme)
Telford
Tilbury
Warwick (Wedgenock House)
Watford
Watnall
Wednesbury
Weedon LGV
Wolverhampton
Worcester
Worksop
Thursday 27 April London, south-east England, south-west England and Wales
Aberystwyth (Park Avenue)
Ashford (Kent)
Aylesbury
Banbur
Bangor
Barnstaple
Basingstoke
Belvedere (London)
Bletchley
Bodmin
Bridgend
Bristol (Avonmouth)
Bristol (Brislington)
Bristol (Kingswood)
Bromley (London)
Burgess Hill,
Caernarfon LGV
Camborne
Canterbury
Cardiff (Llanishen)
Cardigan
Carmarthen
Cheltenham
Chertsey (London)
Chichester
Chingford (London)
Chippenham
Crawley
Dorchester
Eastbourne
Enfield (Brancroft Way & Innova Business Park
Erith (London)
Exeter
Exeter LGV,
Farnborough
Folkestone
Gillingham
Gillingham LGV
Gloucester
Greenford (London)
Guildford
Hastings (Ore)
Hendon (London)
Herne Bay
Hither Green (London)
Isleworth (Fleming Way)
Lancing
Launceston
Lee On The Solent
Llanelli, Llantrisant
Maidstone
Merthyr Tydfil
Mill Hill (London)
Monmouth
Morden (London)
Newbury (Hambridge Lane)
Newport (Gwent)
Newport (Isle Of Wight)
Newton Abbot
Oxford (Cowley)
Pembroke Dock
Pinner (London)
Plymouth
Plymouth LGV
Poole
Portsmouth
Reading
Rhyl
Sevenoaks
Sidcup (London)
Slough (London)
Southall (London)
Southampton (Maybush)
Southampton LGV
Swansea
Swindon
Taunton
Tolworth (London)
Tottenham
Tunbridge Wells
Uxbridge (London)
Wanstead (London)
Weston-Super-Mare
Winchester
Wood Green (London)
Wrexham
Wrexham LGV
Yeading (London)
Yeovil.