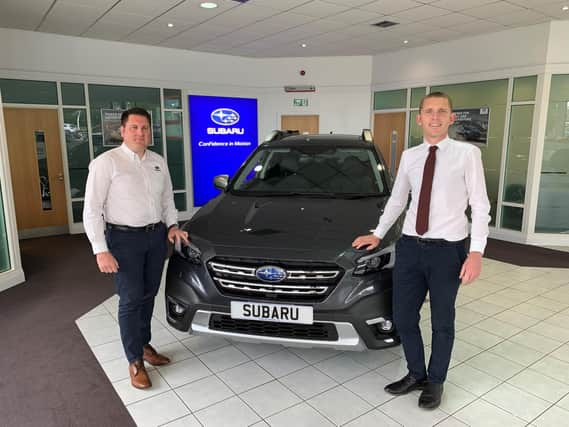 One of the biggest names in car sales in the county for the past two generations has secured exclusive sales for Subaru in the area.
Nunns of Grimsby has been selling cars and pick-ups since 1975, and is already a huge name for Isuzu and Mazda drivers.
On June 1 it added Subaru to its multi-dealer franchise and has a range of brand new cars in stock, ready to test drive, buy and take home, with no long order waiting times.
This includes the hugely popular self-charging hybrid and petrol SUVs, XV, Outback and Forrester, and coming soon, all-electric SUV the Solterra.
Brothers Michael and Stephen Nunn set up the firm nearly 50 years ago and the family has been serving customers ever since, with a reputation for great customer service and aftercare, meaning people come back to them time after time for their cars.
The next generation is also involved, with brothers Chris and Paul managing the business day-to-day.
Chris Nunn said: "We are delighted to have secured Subaru sales here in Grimsby and have cars in stock to test drive and buy today. The whole Subaru range offers a superb level of specification and unrivalled safety features. They're such capable cars – we invite you to come down and experience them for yourself."
Once a byword for performance rally cars, Subaru has trimmed down its range, honing it to a fleet of hugely popular SUV models to meet all needs.
All the cars in the range have four-wheel drive, ready to tackle whatever the terrain and weather throws your way.
XV: This self-charging hybrid compact crossover is small but mighty, effortlessly impressive and a dream to drive. Whether you want to climb mountains or simply tackle the school run, this is the car to seamlessly rise to the challenge.
Outback: This is the original AWD car for the outdoorsy family, and can take muddy fields and urban roads in its stride. The latest version is the most technologically advanced ever, proving you don't need to sacrifice style or substance when you want a car that can take on anything.
Forrester eBoxer: Big, beautiful and a joy to drive, this no-nonsense SUV punches above its weight. It is Subaru's first self-charging hybrid, giving you battery support without any need to hook up to charge. It's a reliable workhorse with the pedigree of a stallion.
Coming soon – the all-electric Solterra
The new Solterra will be available to test drive and buy later this summer, but it's already turning heads and hearts, and it's easy to see why. Like the rest of the Subaru range it's an AWD vehicle, which blends punchy functionality with eye-catching style, but this time ditching petrol and diesel for a fully electric experience.
The Solterra – from the Latin for sun and earth – has five star safety ratings and a driving range of 288 miles on a single charge, and the 150kW fast charging capability allows for 20 to 80 per cent charging in under 30 minutes.
It's available to pre-order now from Nunns of Grimsby.
Experience the outstanding safety, capability and reliability offered by Subaru – call in to see the team at Nunns of Grimsby, Altyre Way, Hewitts Avenue, Grimsby, DN36 4RJ, or give them a call on 01472 200000.