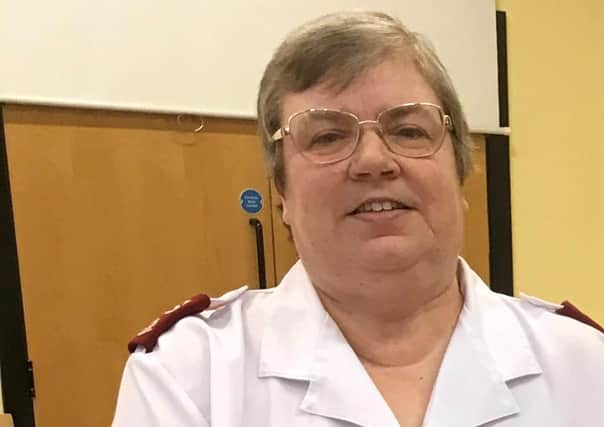 The Salvation Army expresses its Christian faith by offering friendship, practical help and support to some of the most disadvantaged people in our communities.
This will be a really tough Christmas for local families as many have faced job losses and reduced income due to the impact of the coronavirus pandemic.
The Salvation Army is expecting the number of people requesting support to be greater this year, and so they are appealing for help to share some hope this Christmas.
The town's Salvation Army church leader, Major Dawn McGarvey said: "Every year we ask people to donate new toys and gifts to our Christmas present appeal so we can distribute them to families whose children would otherwise not receive a gift.
"This year, we are expecting the number of families requesting help to rise as a result of the pandemic's impact on already tight family budgets."
The Salvation Army will be collecting donations of brand new unwrapped toys at its hall at West Banks on Friday December 4 and Saturday December 5 from 11am-1pm. Then again on Tuesday December 8 to Saturday December 12.
They especially need toys for under threes, not cuddly toys, but 0-15 gifts are needed.
Major Dawn said: "By adding an extra present or treat to your shopping list you can remind families facing a tough winter that their community cares. This year our appeal is themed, 'Be A Star', encouraging our community to bring light and joy to families. It also reminds us all of that first Christmas, when a star appeared in the sky to bring the shepherds and wise men to Bethlehem to discover new hope in the birth of Jesus.
"By being a star and donating to our Christmas appeal, people will shine a light in the dark for people who are struggling and in need at this special time of year."
The Salvation Army will sort and distribute the gifts to children and families in the area through their networks and via local groups and social services.
○ Gift ideas for children and young people:
0-3 years - colourful and fun educational toys, cot mobiles, baby clothes, bath toys, CDs of suitable music and nursery rhymes;
3-5 years - books, dressing up clothes, cars, lorries, dolls, action figures and soft toys, colourful and fun educational toys, CDs (music, stories and nursery rhymes), suitable DVDS, colouring sets, pencils, crayons, books, puzzles, footballs;
5-9 years - dolls and action figures, educational games and toys, stationery (colouring sets, pencils, crayons, school sets), CDs and family friendly DVDs, books, puzzles, word search, crosswords, skateboards, sports equipment and clothing;
9-12 years - games and toys, sports equipment and clothing, stationery, CDs, DVDs, books, T-Shirts, hair ornaments, gloves, scarves, hats;
13-16 years - CDs, DVDs, books, toiletries (please try to ensure non-allergic ingredients if possible), gloves, scarves, hats and other fashion accessories.