Not being able to tour the town's streets with Father Christmas this year due to Covid restrictions against gatherings, the town's fire crews put their heads together and came up with the drive-through event, based on a similarly successful grotto in Spalding which raised a whopping £2,000 for the Firefighters charity over three nights.
The Sleaford crews want to raise a similar amount split between the Firefighters Charity and a charity local to Sleaford and have been busy creating a magical winter wonderland at the fire station car park on East Road.
Families began rolling up at 4.30pm this evening to wave at Santa in a completely Covd-friendly way, driving past inflatable snowmen and lit up Christmas trees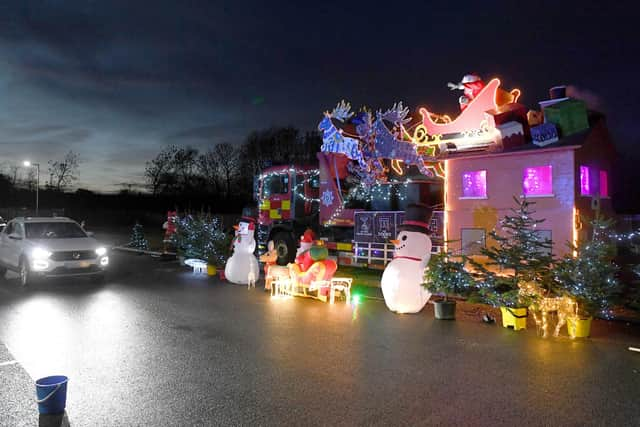 A lively Santa pumped out festive tunes, leapt around his sleigh like a rock star and squirted snow from a cannon.
The crews say: "You're welcome to just come along, but we kindly ask for a donation via our online JustGiving page or by donating on the day."
The drive-through grotto will be open from 4.30pm-7pm this Thursday to Saturday, December 17-19. It may be extended to an additional night depending on demand.
Watch our video to get a taste of the fun!