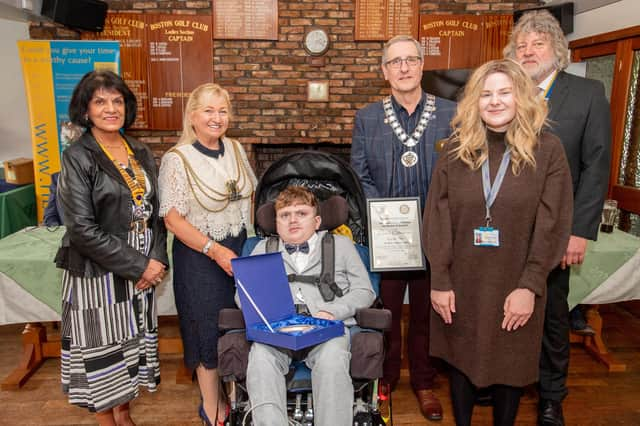 ​The Rotary Clubs of Boston and Boston St Botolph held their annual Children of Courage Awards at Boston Golf Club on Monday.
A spokesperson for the clubs said: "The awards are presented to local young people, nominated by their schools or colleges, who have shown exceptional courage in their lives by either overcoming personal adversities or through personal sacrifice to others."
First to receive their award was Kuba Klapec – a student at Haven High Academy who suffered a brain injury after being hit by a car.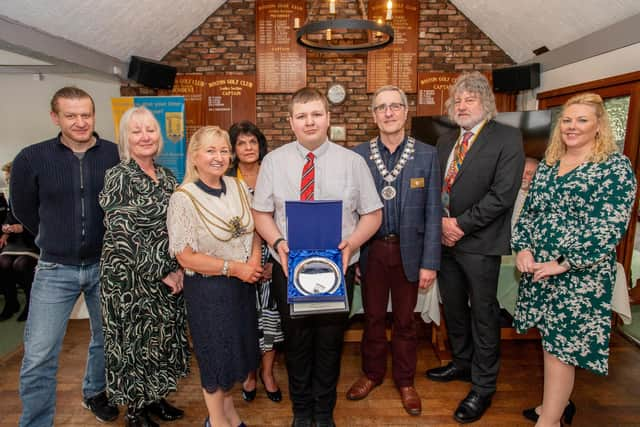 His nominee wrote: "Kuba is a dedicated young adult who puts his education as one of his highest priorities.
"Unfortunately in in the summer term of Year 7, Kuba was hit by a car and suffered a number of injuries including a brain injury. During his recovery he showed nothing but bravery and determination to fully recover. He quickly returned to the academy despite his injuries and a phased return. His peers were very pleased to see him back and gave lots of support to him. He settled back into school life well and increased his times in school. He is now accessing a full-time timetable with minimal support and making great progress with his education.
"Kuba wants to do well and strives everyday to do better, both in school and at home. His attendance has been affected by the accident but he does his very best to attend and work around on-going medical appointments. Nothing seems to faze him, he takes everything in his step and continues to move forward."
They added: "We are all very proud of his achievement to date and are excited for his future prospects."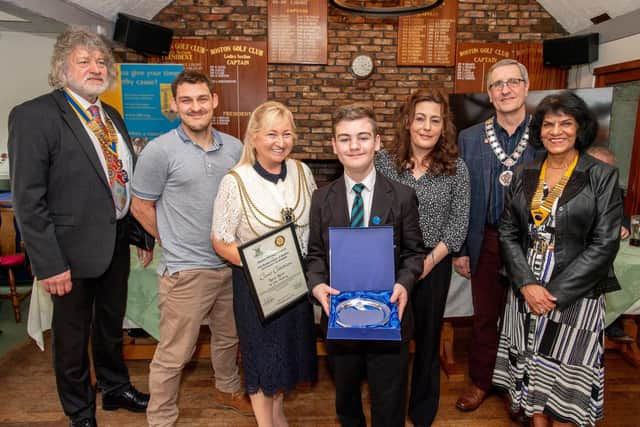 Next to receive an award was Kayden Haw, who has suffered health challenges since he was an infant.
His nominator said: "Kayden is 13 years old. Throughout his young life Kayden has faced challenges that most of us cannot even begin to imagine. In his young life he has overcome many significant health difficulties. At 18 months-old, he was diagnosed with Leukaemia. Severe medical complications during Kayden's recovery resulted in him having a multitude of significant life-long health issues including epilepsy, physical difficulties, and profound and multiple learning difficulties. Invasive medical procedures, surgeries and physiotherapy have all become a regular part of Kayden's life.
"Kayden's immune system is particularly low and in October Kayden was hospitalised with flu and a lung infection. He spent a month in hospital where at times the outlook was bleak, but Kayden defied all expectations as he has time and time again. He then went on to have a major operation. Kayden has been able to show an unfaltering determination to defy the odds and get better. Though there have been many painful procedures and difficult moments, he has managed to overcome them all and continues to do so now.
"Kayden has remained an inspiration to all of us. He has shown us that even in the darkest of times, there is always hope to be found. He has taught us the power of resilience and the importance of never giving up, no matter how difficult the road ahead may seem. Incredibly, Kayden has recovered albeit with a bit of extra kit and yet more medical interventions to add to his routine!"
They added: "Despite all this, Kayden remains such a resilient, happy, chatty and cheeky young man! With the support and love of his dedicated and self-less mum, Emma, Kayden continues to put us all to shame with his incredible courage that he shows every day. We are all so proud of you Kayden and we are so delighted to be able to celebrate your bravery, resilience and wonderful positivity. You are an inspiration to us all."
The final award at the ceremony was given to Reece Revell.
The 12 year-old Giles Academy pupil is described as having "a real strength of character" – with his nominator saying he is "a delightful young person who engages very well at school."
Although no further details were given, Reece was said to have been "dealing with adversity throughout his life."
"Despite this, Reece smiles every day, he is courageous and brave," they said. "Reece is a role model student and deserves recognition for his strength and perseverance throughout his young life."
They added: "Despite the complexities of Reece's situation he enjoys spending time when possible with his family and is very loyal to them."
Sponsors for this years awards were The Port of Boston, Howard Tenens, Freight-Linc Logistics Ltd, Boston Big Local and Boston Golf Club.