Working in conjunction with retailers and businesses, North Kesteven District Council is inviting everyone to help create a visible expression of what they like and love about Sleaford through a heart seat installation at the Riverside Precinct.
And on Valentine's Day (tomorrow, February 14), between midday and 2pm, everyone is invited for a free professional photograph at the love heart seat.
Everyone is welcome, whether they would like a photo with a wonderful workmate or friend, their children and family, a loved partner or spouse, or simply a lovely photo of themselves to keep.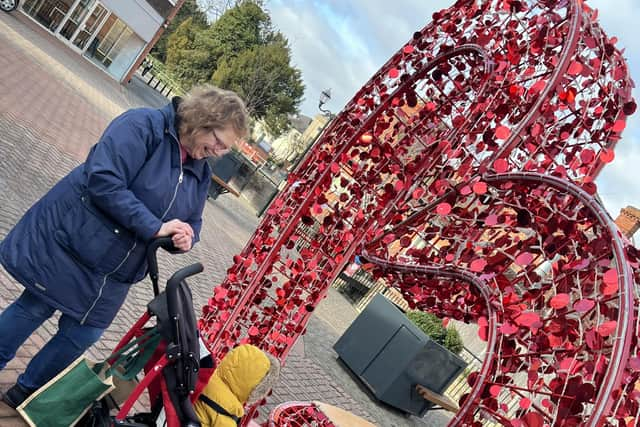 Pictures will be shared for collection via a public photo album on the North Kesteven District Council Facebook page shortly afterwards.
While visiting, people are encouraged to also pick up a heart tag for free at participating businesses in the town, write on it the things they love most about Sleaford and add it to the heart seat. The tags are available from a number of shops and businesses across the town centre. Look out for heart vinyl stickers in shop windows or heart tags displayed inside or check social media #LoveSleaford to see participating businesses.
Lots of love has been shared already on these tags for aspects of life across Sleaford including favourite people, places such as the library and countless shops and restaurants, and the local environment including the River Slea.
The love heart seat will be in place at Riverside Precinct throughout February. People can visit any time and share their own photos on social media with the hashtag #LoveSleaford
It is also lit via LED for timed periods in the evenings as an additional opportunity to enjoy it.
Any businesses interested in hosting tags for people to collect can still email [email protected] to request them.
The installation of the love heart seat project has received £4,500 from the UK Government through the UK Shared Prosperity Fund. It forms part of the projects within the council's wider investment plan put forward for funding through the UK Shared Prosperity Fund.
It also follows the RiverLight Festival last year which through various creative activities and community involvement, and utilising Welcome Back Fund monies, helped generate renewed interest and engagement for Sleaford.
The UK Shared Prosperity Fund is aimed at empowering places and their communities to identify and build on their local strengths, including pride in place.