'Heartbreaking' - vandals rip off personalised ribbons left at baby loss awareness display in Boston
A display of personalised ribbons for 'babies in heaven' has been targeted by vandals – leaving the mums who organised the project 'heartbroken'.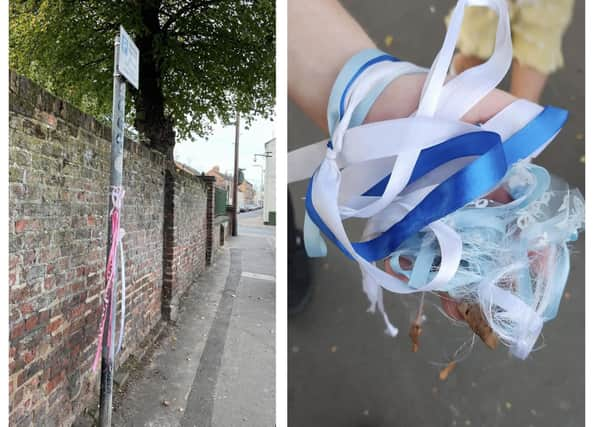 The display, to mark Baby Loss Awareness Week (October 9-15) was installed in Central Park last week.
But around 24 hours later someone had torn down a number of the ribbons, which each had a heart-shaped tag containing the names and dates of babies who had passed away.
Kelsey Hiom co-organised the event with three other mums to help raise awareness of baby and pregnancy loss, after tragically losing both her twin girls.
As part of the project, Kelsey set up a JustGiving page to raise funds for SANDS – the stillbirth and neonatal death charity.
She told us: "I just feel heartbroken. Someone had ripped down the ribbons with my girls names on and tied it around a lamp post.
"Other ribbons have been ripped off and damaged. I spent days making and personalising the ribbons for other parents, and it now it just feels like I wasted my time."
Some of the ribbons were damaged and left on the floor, while others were removed and tied around lamp posts.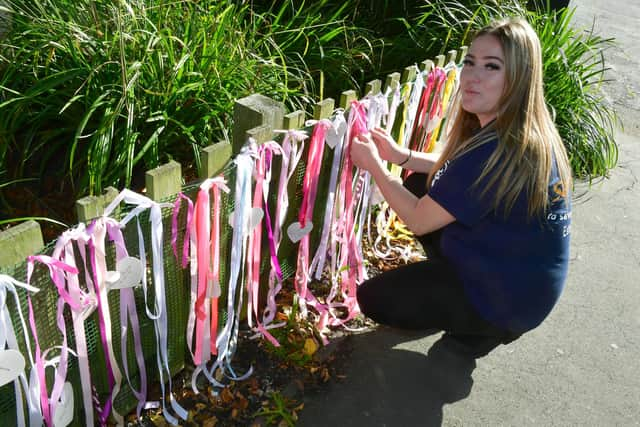 "We have been able to salvage some of them, but others have been frayed and are beyond repair," Kelsey said. "There are signs clearly stating what these ribbons were for. Has the person who did this got no heart?"
Some witnesses allege they saw youths, some of whom had their parents present, pulling off ribbons – with claims one tied a baby's ribbon around his head 'like Rambo'. The incident was reported to the police.
Coun Dale Broughton, portfolio holder for the Town Centre attended the launch of the event on Monday last week. After hearing the news of the vandalism, he said: "I feel very angry and upset after all the hard work by these ladies, and what the ribbons signify that they have been damaged and removed."
A spokesperson for Boston Borough Council added: "We would ask all parents/guardians to ensure their children do not remove or destroy any part of the ribbon display which is installed in Central Park for 'babies in heaven'. The loss of a baby or child is devastating and to see this beautiful display in their memory be tarnished in this way will be heart-breaking for the parents and families affected."