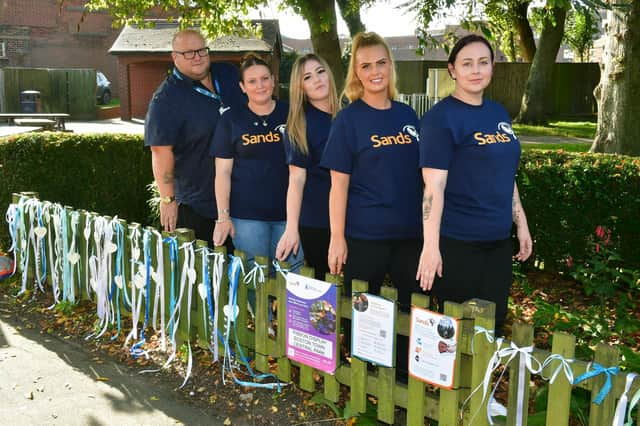 In Pictures: Mums create a poignant walkway of ribbons for 'babies in heaven'
If you visit Central Park this week you will pass by a walkway of colourful ribbons – each containing the names of babies taken far too soon.
Published 11th Oct 2023, 14:11 GMT
The display has been created by local mums to mark Baby Loss Awareness Week (October 9-15) – and to raise money for a charity close to their hearts.
Kelsey Hiom, Cally Roberts, Shinead Dunne, and Sarah Baker met up at the park on Monday to begin placing ribbons on the fences lining attractive borders planted by the Boston In Bloom team.
Heart-shaped cards were attached to each ribbon with names and dates carefully written on.
The aim was to bring bereaved families together, to break the stigma of baby loss and to raise money for SANDS – the stillbirth and neonatal death charity.
"The event went really well and it was really lovely to meet some new parents," said organiser Kelsey.
"Each of the ribbons were personalised to a special baby in heaven."
The event was attended by Boston Borough Councillor Dale Broughton, portfolio holder for the Town Centre, who said: "It was so humbling listening to these lovely ladies stories and to see the amount of ribbons tied makes you realise how many similar families have gone through this heartbreak, but have bravely come out the other side. These names on every ribbon will rightfully never ever be forgotten and always be loved."
So far the mums have raised £200 for the charity, with messages of support left via their JustGiving page.
One anonymous donator wrote: "I witnessed this lovely gesture. It really touched me seeing it. Well done ladies."