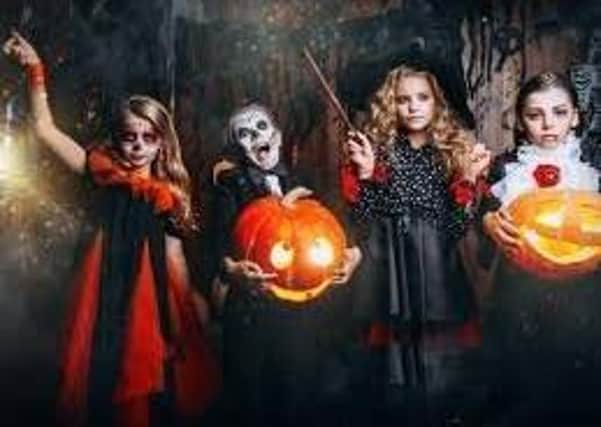 According to research by home interiors specialists, Hillarys, as part of a study into how Halloween 2020 will be affected by COVID-19, one in four parents (25 per cent) in the Peterborough region said they were not opposed to allowing their children out on the hunt for treats despite coronavirus concerns.
More than 2,300 parents spread across twelve UK regions took part in the survey, all of whom would traditionally take their children trick-or-treating for Halloween.
When the parents were asked whether they would be taking their children trick-or-treating this year, the majority of people from every region said they would not be. When asked why,'fears of catching coronavirus' was the top answer (84 per cent). Only 11 per cent said that 'fear of unknowingly passing coronavirus onto someone else' was their top concern.
Whilst three quarters was the national average in terms of the number of parents who said their children would not be trick-or-treating this year when they normally would (78 per cent), the regional breakdown of results saw noticeable differences.
Parents from the South West were least concerned, with only 68 per cent saying they would be keeping their kids at home, while those in the North East were most concerned as 88 per cent of parents said their children would not be trick-or-treating as normal this year, mostly due to coronavirus concerns. East of England was 75 per cent.
The North West region was the next most concerned (86 per cent).
When relevant respondents were asked what they might do in place of trick-or-treating this year, 54 per cent said they would have a small household party for their children, while 31 per cent said they would watch spooky family movies and 25 per cent said they would just be buying their children sweets/chocolate instead.
Asked if they would ignore trick-or-treaters knocking on their own door this year, 68 per cent of people admitted that they would; with 'covid safety' being the top answer for why (82 per cent).
Lucy Askew, spokesperson forHillarys gave her thoughts on the study and some alternatives to trick-or-treating this year: "This year has really been turned upside down for everyone. Just when you think things are going back to normal, we are faced with regional lockdowns and the ever-growing fear of catching coronavirus, meaning more sacrifices have to be made to stay safe. Children have missed out on an awful lot this year too and no doubt there'll be a lot of glum little faces on the evening of October 31. Trick-or-treating has lots of great alternatives though, so the fun doesn't have to be taken away completely. Here are just a few ideas:
Killing two birds with one stone – a pumpkin hunt is a perfect opportunity to get your children to have fun and be creative, and you do not even need to leave the house.
The first part of this activity involves getting the children carving, painting, drawing and sticking things to as many pumpkins as you wish, which will provide ample entertainment for a good couple of hours. The next step is taking a leaf out of the Easter Bunny's book; hide the pumpkins around the house and garden making them difficult to find and let the spooky treasure hunt begin! You can then give treats or prizes to the child who found the most pumpkins.
Don't forget to pop on your Halloween costumes for an even better experience for the little ones. Many of your neighbours might also still decorate their homes and put out pumpkins as normal, so you could still take your children out for a walk as darkness falls and have them count all the pumpkins on the journey. For each one they find, they win a sweet!
Apple bobbing is brilliant fun, but have you ever tried it with doughnuts? Using pieces of small string or wire, tie as many doughnuts as you fancy (we suggest a minimum of 10), to a branch or a doorframe. Then, with your hands tied behind your back, try and get as many doughnuts as you can before the timer runs out. Again, this activity is most enjoyed when in full Halloween costume.
This is the perfect, low budget alternative this Halloween and it can be just as fun as trick or treating. To make things a little more exciting, try a film-themed evening where everyone dresses up as their favourite character from the movie; you can give prizes for 'best dressed' and 'best impression'. Lastly, a movie night wouldn't be a movie night without a goodie bag full of sweets and popcorn.