There is a way, however, to make a super-sized version of the family favourite complete with the famous heart-shaped segment of jam in the middle, and the ingredients are extremely easy to find.
B&M is showing home cooks how to create a giant Jammie Dodger using 650g of butter at room temperature, 320g caster sugar, 500g plain flour and five tablespoons of raspberry jam.
It takes around an hour to make in total, and serves 10 to 12 people; the enormous biscuit can be cut into slices like a pie.
The steps detailed on the B&M website are as follows:
- Pre-heat oven to 180 degrees Celsius/356 degrees Fahrenheit/gas mark four.
- Whisk the butter and sugar until fully combined. Add the flour and mix until fully combined.
- On a floured surface, form the dough into a ball then chill in the fridge for 20 minutes.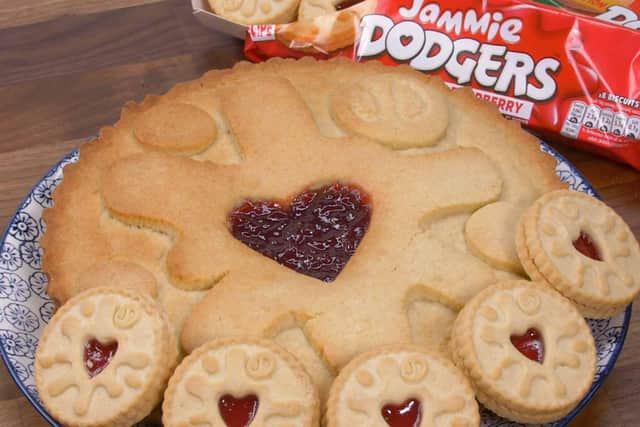 - Split the ball of dough in two and roll each piece until it is around half an inch thick. Now use a 10-inch cake tin to cut out the two giant biscuits.
- Take the excess dough and re-roll it. Once this is an inch thick, use a stencil and cut out the Jammie Dodger shapes.
- On one of the giant biscuits, add the stencilled Jammie Dodger designs and cut out the heart.
- Bake each biscuit for 15 to 20 minutes. Once baked, leave to cool for five to 10 minutes.
- On the biscuit base without the heart hole, spread the jam to the edge, add the top biscuit and fill the heart with jam.
Jammie Dodgers have been made by food company Burton's for more than 50 years. Consisting of shortbread with a raspberry or strawberry-flavoured jam filling, they are a type of linzer biscuit, a smaller version of a linzer torte, a traditional Austrian pastry.
"This giant Jammie Dodger is the perfect treat to make when you fancy trying something new," B&M said.
"We all love a classic Jammie Dodger, so why not make a giant one."