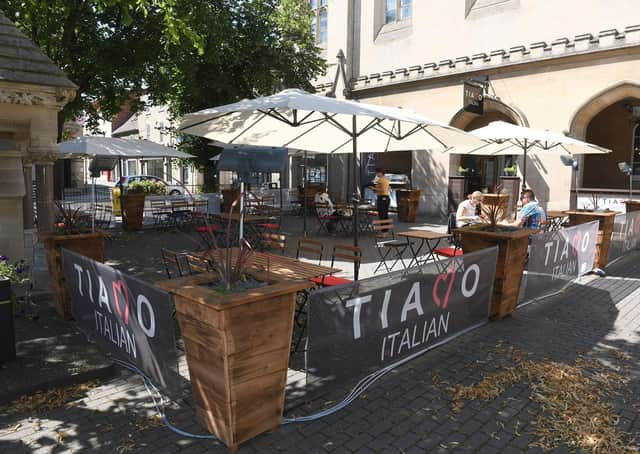 With the summer weather ideal for pavement cafes, restaurants and bars, businesses will be able to apply online for a free pavement licence and it will be determined in just ten working days or less, following consultation with local agencies and the public.
Lincolnshire County Council is also extending this policy to shop owners who may wish to place a stall on the street outside their premises. The aim is to help recoup lossses from closure under lockdown and the ongoing challenge of keeping customers socially distanced inside business premises.
The new licencing process is temporary to support businesses while social distancing measures may still be in place. Once approved, the licence will be valid until the end of September 2021.
Coun Richard Davies, executive member for highways at Lincolnshire County Council, said: "This is an overhaul of the previous street café licensing, to streamline the process and help kick start the local economy safely.
"The temporary licences are free – so that's one less bill for local businesses to worry about – and will last until next September.
"Social distancing measures have unfortunately cut the capacity in bars, restaurants and cafes considerably. Being able to use the street outside their premises will help businesses bounce back after three months with their doors closed, and bring life back into our town centres.
"In some areas, this could drastically change the street scene, and we're confident that Lincolnshire's business-owners will be able to make this a success."
For a pavement licence, businesses will need to:
* Outline how many tables and chairs they want to put on the highway, and where.
* Specify the days of the week and times that the furniture will be on the highway.
* Show they have public liability insurance for at least £5m.
* Demonstrate that they have consulted neighbouring properties if they plan to extend beyond their frontage.
* Obtain a licence from their district council if they wish to serve alcohol.
* Not obstruct pedestrians or traffic, including parking and deliveries.
New legislation is being considered by the Government which moves the responsibility for pavement licences from the county council to district councils. The authority will continue to work with district council colleagues but the pavement licence scheme may be subject to slight changes in some areas when the new legislation takes effect – this includes Lincoln, where the city council has confirmed it will run its own separate scheme.
North Kesteven District Council has already launched its own alfesco dining initiative to boost businesses in the town's Market Place, including providing planters and barriers.
Coun Richard Wright, Leader of North Kesteven District Council, said this was the fulfilment of a long held aspiration of the district council and townsfolk to promote a more vibrant town centre which broadens possibilities for going out, supporting businesses and extending the evening economy.
In line with Covid regulations, licensing requirements and Test and Trace data capture, each business is required to define its zone clearly, leaving room for pedestrian access in front of the buildings and between the designated areas.
Under the new Business and Planning Bill the process for securing a 'pavement licence to serve food and drink out of doors on pavements and in other similar locations is streamlined, speeded up and made cheaper and comes with 'deemed planning permission' for a time-limited period up to September 2021.