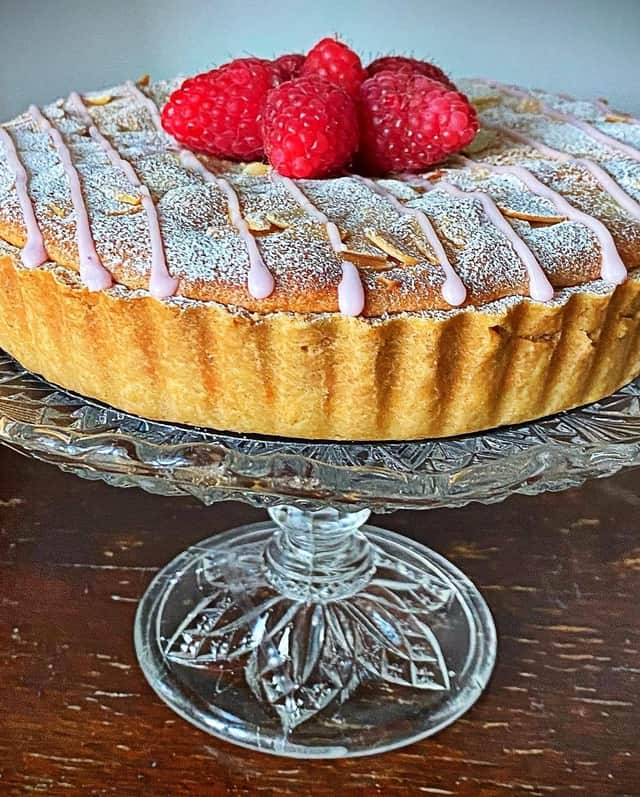 Susan Fox's Jubilee Tart.
Susan Fox, of Foxy Cakes & Bakes, is one of 50 dessert makers out of thousands from across the country to have their pudding acknowledged as part of Her Majesty The Queen's Platinum Jubilee.
Back in February, Susan entered Fortnum & Mason's Platinum Pudding Competition, creating and baking a pudding fit for The Queen to celebrate her platinum jubilee, which could be either a cake, a hot or cold dessert, trifle, cheesecake or anything in between, and had to have a special story behind it.
Susan created a Platinum Tart, which was based around a family recipe passed down from her mum, and is made using sweet short-crust pastry, using Scottish raspberries as a nod to the Queen's Scottish ties, rhubarb as an authentically British fruit, flaked almonds and with rose water icing, to pay tribute to our true English rose.
As a sentimental twist, Susan's parents were also married in The Queen's coronation year in 1952.
She then received a call in March from the organiser of the competition to say that her pudding had made the top 50 after being judged by a panel including Dame Mary Berry and Monica Galetti.
The next stage involved a 45 minute interview with organiser and executive pastry chef at Fortnum & Mason, Roger Pizey, to ask her about her dessert and to find out more about her, and why she views Her Majesty as such an inspiration.
Although Susan's Platinum Tart didn't make the final five entries, she was nevertheless delighted to be listed in the top 50 and on Her Majesty's birthday on April 21, she received a parcel form Fortnum & Mason with some tasty treats and a certificate.
She said: "I was delighted and humbled to have made it to the top 50, considering it's a national award I didn't expect to get far at all."
For those wanting to try Susan's Jubilee Tart, Foxy Cakes & Bakes will be holding a stall at the Summer Artisan Market on Sunday June 26, where you will be able to sample her delicious, nationally-recognised tart.
Tickets are available at https://allevents.in/horncastle/summer-artisan-market/200022320078912​​​​​​​