In recent times, that's been more apparent than ever as we've been deprived of enjoying many of the things we normally like to splash out on.
In my household, eating in a restaurant is something that's been missed the most, but it's not just the 'eating' because let's face it, we haven't exactly starved over the past few months.
It's the whole dining experience - the sprucing up, slapping on your best aftershave, being served at the table, enjoying an after-dinner cocktail in the lounge - get my drift?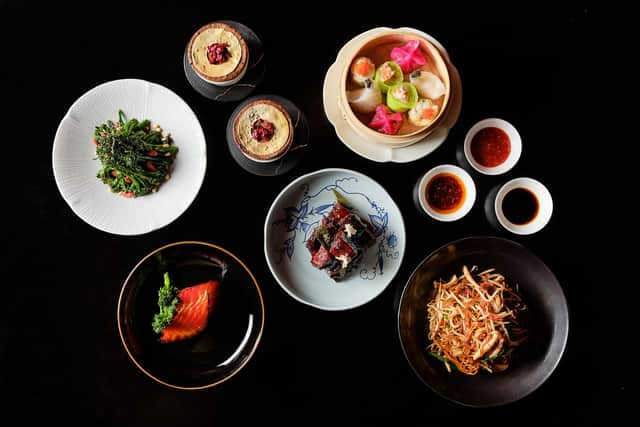 We'll have to wait a little while longer to resume those pleasures, but the closest we can get right now is by going online and looking for restaurant-quality food to bring to our doorsteps.
My wife and I were celebrating an anniversary, so we opted to go all out and order the ultimate foodie feast from Michelin starred London restaurant Hakkasan.
Arriving in the smartest 'takeaway' box I've ever seen, I could have been forgiven for thinking my other half had ordered an expensive dress from a swish boutique.
The aptly-named 'Occasions By Hakkasan' is a gourmet package full of sumptuous Cantonese delights that are deserving for any special occasion.
With the neatly-packed ingredients clearly marked and with easy-to-follow instructions from Executive Chef Andrew Yeo, everything is there for you to recreate Hakkasan's iconic signature dishes.
The classic dim sum platter, which came with a bamboo steamer, was a picture of beauty - pink, green and yellow dumplings all packed with delicious fillings from king crab and wild mushroom to halibut shui mai and langoustine, all topped off with a sprinkle of caviar.
Then there was sticky smoked beef ribs with jasmine, which melted in the mouth, alongside the sweeter-tasting grilled Chilean seabass soaked in honey and traditional Hakka noodles and stir-fry baby broccoli with preserved olive.
Dessert was a luxuriously-rich and indulgent chocolate and hibiscus soufflé which, after watching it rise like a phoenix in the oven, was delicately topped with a white-chocolate disc and freeze-dried raspberries.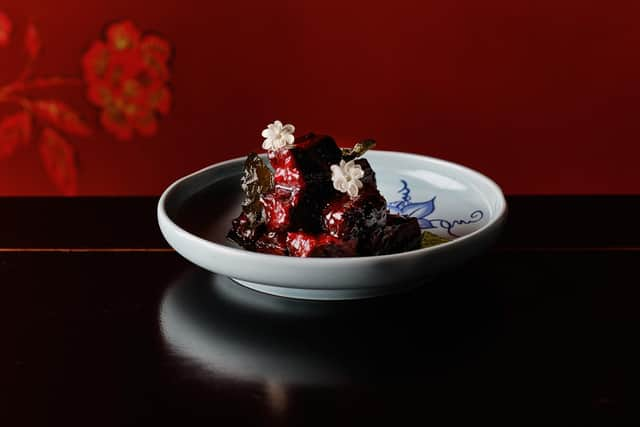 At £175 for two people I'll admit it's expensive, but what I loved about this meal is that the experience didn't just stop at the food because Hakkasan aims to take customers on a journey as close to the full restaurant adventure as you can get.
The addition of chopsticks, incense sticks and holder, and QR code to download the special 'Sounds of Hakkasan playlist' were nice and unexpected little touches, and when I closed my eyes I could easily have been dining in Hakkasan's plush Mayfair restaurant myself.
Our only contribution to proceedings was the bottle of Moet & Chandon that had been waiting patiently in the drinks rack for that special occasion. And what an 'occasion' it was!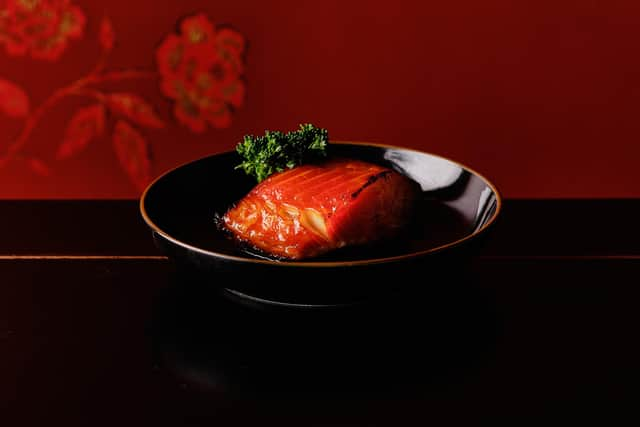 The Occasions by Hakkasan box costs £175 for two people and can be delivered nationwide. Orders are made via the Hakkasan website, with deliveries available on Thursdays, Fridays, Saturdays and Sundays.