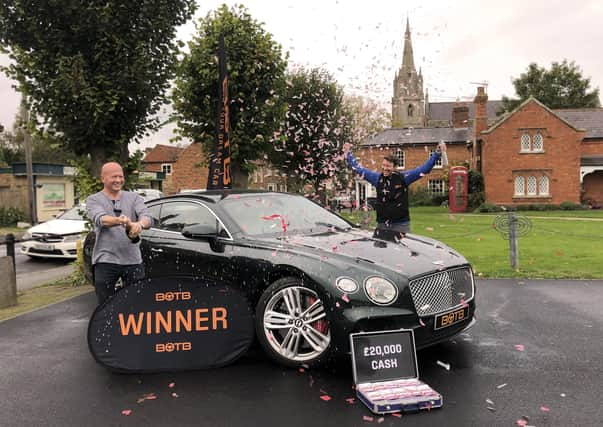 Father-of-two Stephen McHugh, who owns The Nags Head, as well as another pub in Nottinghamshire, has just about got over the shock after becoming the latest 'Best Of The Best' Dream Car winner
He was busy doing paperwork at the village pub on The Green when BOTB presenter Christian Williams tracked him down to surprise him before closing time and say he had bagged himself a brand-new Bentley Continental GT W12 worth £163,000.
"I'm speechless, these things just don't happen," exclaimed Stephen when met with the news.
He admitted having had heart trouble in the past and jokingly said he felt a bit of a flutter when Christian turned up.
Stephen says he first had a go at the contest as a raffle based at airports in London, but started joining in the online competition about six months ago where you log on to win all sorts of cars from Fiestas to Lamborghinis.
The former accountant said he is usually quite careful about his entry, looking at the lines of sight of the footballers to fathom where the ball could be. But he said this week he was extremely tired after a long shift at the pub and just sat down and guessed using credit he had accumulated to pay for his ticket.
He said: "It was about five minutes to the midnight deadline on Sunday when I remembered to do it and I just glanced and put a cross in.
"It is just a bit of fun as it doesn't cost a lot to enter and I never expected to win."
The ball's position is created from a fictional image based on a panel of expert judges.
Due to the year's waiting time to get a new Bentley, he opted for the cash equivalent, something that has come at the perfect time with his pubs forced to close in March because of the UK-wide lockdown and since reopening under government guidelines and the 10pm curfew.
"It's been a really difficult year and we're glad to be back open now but following the guidelines means we're only doing about 50 per cent of what we're used to," the 58-year-old added.
"Customers are not coming in as much as they did pre-March and the government has threatened further lockdowns, so it has come at a good time."
He has owned the Nag's Head for six years and pledged to give his customers a drink on the house to celebrate.
Word certainly got around the village quickly as Stephen's daughter called him just five minutes after the surprise saying she had heard the news already.
"I don't know how far that cash will go in our family - I've got two grown up daughters who I'm sure will want a cut! Thank you so much BOTB!" he said.
Since being founded in 1999 by William Hindmarch, BOTB has given away more than £34m worth of prizes, including supercars, cash and holidays.
The company hands over the keys to two stunning cars each week as well as a 'lifestyle' prize. Recent winners have bagged a quad bike, a holiday to the Arctic and £15,000 in cash.
BOTB's Christian said: "It's been a really challenging year for all businesses but the hospitality industry has taken a real hit, so I was so happy to surprise Stephen and give him the good news he was this week's winner."