Popular Sleaford pubs show how they are preparing for lockdown lift-off
Bars, pubs and restaurants in the Sleaford area are gearing up for reopening after the government announced July 4 as the date for lifting of lockdown restrictions, with businesses taking differing approaches.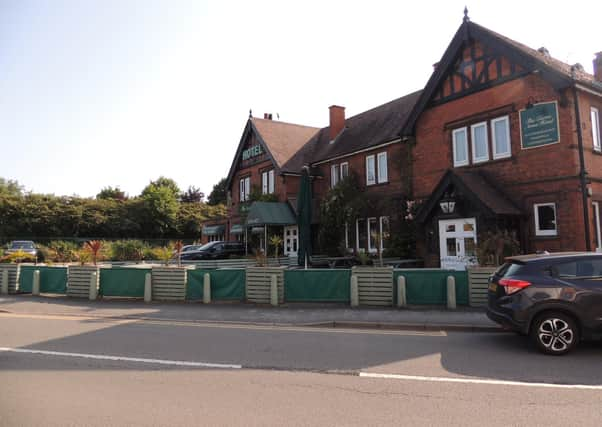 JD Wetherspoon has drawn up plans to ensure that its staff and customers are safe when The Packhorse Inn in Northgate, opens. 
Phil Pitts, manager at The Packhorse Inn, said: it was important they were prepared for the announcement. "We have spent a number of weeks consulting with staff who work in our pubs, as well as area managers in order to draw up our plans.
"The safety of staff and customers is paramount."
Social distancing measures will result in the employment of two full time staff who will regularly clean surfaces and touch points throughout the pubs such as door handles, allergen information screens, card payment machines and
The company has undertaken extensive employee consultation and has also consulted with many of its suppliers and contractors, as well as referring to UK Hospitality guidelines.
The Packhorse Inn will have screens at the till point. There will also be screens to create seating areas where it is not possible to separate the tables to the social distancing requirement.
They will provide gloves, masks and protective eyewear for staff who can elect to wear them or not, subject to government guidelines.
There will be an average ten hand sanitiser dispensers around the pub, including at the entrance for customers and staff to use.
Every employee will need to complete and sign a daily health assessment questionnaire to confirm that they are fit to work. This will include having their temperature taken using a digital thermometer.
Dedicated staff will monitor the pub at all times in order to maintain social distancing standards and there will be a member of staff on the door at peak times.
Customer entry and exit will be marked out by floor stickers and/or barriers and there will be clear printed information providing guidance to customers as they enter the pub.
With no customers being allowed near the bar under government guidlines, customers will be asked to use the Wetherspoon order and pay app or use a credit/debit card and contactless, although cash will be accepted.
Staff will hand over all drinks holding the base of the glass and delivered to the table, aas well as food, on a tray and placed on the table using the base of the glass.
Opening usual hours, the pub will also offer a slightly reduced menu and will provide sachets (ketchup, mayonnaise, salt pepper etc), rather than condiment bottles.
Hollie and Ryan Blankley of the popular Watergate Yard pub closed down completely ahead of lockdown, rather than attempting to attempt takeaway services and have spent the time refurbishing inside and out.
Hollie said: "We are pleased that the government have been able to assure us it is now safe for us to operate.
"We will be using the next few days to ensure that we are fully compliant with all guidance and legislation. It's imperative that we are able to be transparent in our processes in order to reassure our employees and customers that we have implemented the best possible social distancing and enhanced hygiene measures.
"Watergate Yard will be different for the foreseeable future, but Ryan, I and the team will do our upmost to make sure our guests are confident in our ability to keep them safe, feel at ease, and enjoy their experience with us."
Lisa Cunago, whose family runs the Carre Arms Hotel, said they have been opening a third of the rooms at a time for key workers during lockdown, as she felt it was "the right thing to do", although it has still not covered all costs.
All 20 staff have been furloughed meaning the family have been handling all service for the guests made up of doctors, nurses, gas and power plant workers.
Lisa said: "We have been not re-letting the rooms for three days to allow anything to die off, but we will now super clean rooms and will continue to do so, still leaving three days in between as a minimum.
"We have screens at the bar and reception area and all the touch points are cleaned hourly.
"Social distancing allows only one person to be going upstairs at a time and masks, gloves and aprons are provided for staff."
Tables are spaced at two metres distance, with the function rooms turned into lounges to create more space without needing screens. They are also expanding the outdoor area at the front to take up more of the car park.
"I'm doing it in a way I feel comfortable, but I feel it is the right time to open," Lisa said.
She admitted the last few weeks have been like working in a hospital. "Sometimes it is quite scary, as we have been taking in people we don't know and do not know what they may have cazught, but no-one has been poorly."
Staff will return as and when trade picks up and distancing guidelines allow.
"We are taking bookings for dinner in the restaurant already, but we will limit opening hours for food because of restrictions on staffing numbers in the kitchen.
"We already have screening between the chefs in their departments and will keep them in teams. Family and household members will work together."