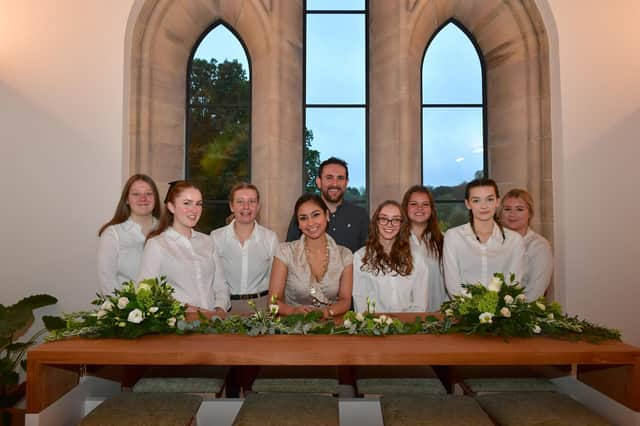 Take a look inside amazing renovated chapel of former Rauceby Hospital - now a tearoom
The disused chapel on the site of the former Rauceby mental hospital has undergone a dramatic transformation and last weekend held its opening night as a new tearoom and venue.
What was once a derelict and neglected building has now become a brand new tearoom and luxury event venue, surrounded by the Grade II registered park and conservation area that makes up Greylees within the old hospital grounds.
The old chapel was built in 1897, but the main hospital building was closed in 1998 and abandoned for decades.
In January 2014 the redundant Victorian chapel was acquired by Milton Keynes-based interior architectural designer Frida Rush. Initially she aimed to open it as a tearoom as part of a new showroom studio for her business, however plans changed as her business working hotels and other clients took off in London and the south of England.
However Frida remained determined to complete her amended vision.
She said: "The business took off in a different direction and became my focus. I needed to work to fund the renovation of the chapel and I was doing it between work projects."
She also works as a lecturer and with so much going on she considered selling off the chapel. But she admitted: "I'm in love with the building and I didn't really want to sell it off.
"It has been ten years in the making and has been an interesting journey. It has been a very intensive process, taking up a lot of my energy and I wanted to see it through to the finish."
Most of the ground work was completed in 2015-16, then she worked on the interior. Things paused for Covid and then in the last couple of years it has really pushed on.
The chapel's interior is full of character from the restored original timber roof and trusses, bronze windows, lime-washed walls, warm lighting, contemporary art and bespoke furniture. The bricks and stone work have been preserved to maintain the character. Frida has designed every element and did most of the painting of the vast interior herself.
As well as a feature gold coloured bar, the main space contains dining tables and chairs as well as more comfy sofas for coffee.
At one end, downstairs is the kitchen with a mezzanine floor above for drinks and private dining groups. "We want to have a dog friendly area which this space will lend itself to," said Frida.
Beyond the bar area there is a small gallery where she aims to create a collection of artefacts, images and memorabilia from the history of the chapel and hospital, including some items found during the chapel's restoration including tiles, chains and lamps. She has even created benches from trees that had to be felled nearby.
Above is a second mezzanine for private functions which can be split in half. It is part decked out with sofas, the other half with dining tables bordered by a glass fronted balcony giving views of the amazing roof space and main dining area below.
Frida hosted the annual meeting of the Greylees Management Group last week, giving her six front of house staff and two chefs time to get up to speed under the watchful eye of her manager Rumeen 'Milo' Farsad.
The official opening night saw guests with drinks and canapes entertained by music and circus acts.
The bar is fully functioning and they will be open for casual dining all day including breakfasts, lunch and afternoon tea. "We want to take afternoon tea to the next level," said Frida.
As a venue she wants to host events for the local community and they are looking into licensing for weddings – she already has one wedding reception booking for this weekend.
Frida said it has been a lengthy and emotional journey and she is still waiting for it to sink in that she has achieved her goal, but she can certainly be proud of the end result.