Who will be open and who won't? - Sleaford pubs gearing up for 'Super Saturday' of lifting of lockdown
It looks like it will be a mixed picture around Sleaford tomorrow (Saturday) as not all bars and pubs will be prepared to reopen on the first day of the lifting of Covid-19 lockdown restrictions.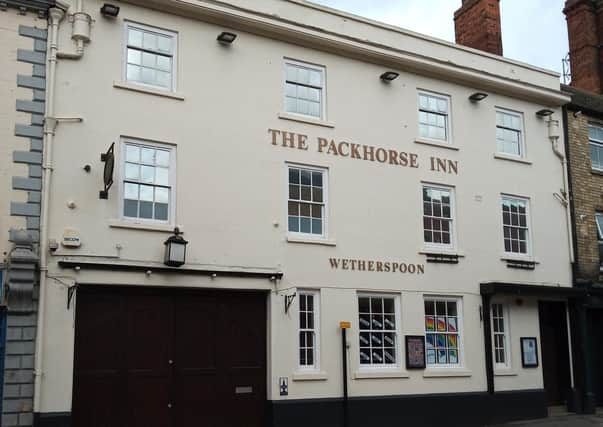 While there is a portion of locals eager to exercise their newfound freedom and enjoy a drink in their pub, some businesses are preferring to delay opening to allow them to get used to the new systems gradually.
There are concerns in the trade that the limitations may not make it viable for some businesses to open, while they are aware that there is still a considerable portion of the population nervous about going out and mingling in larger groups in case of spreading infection.
○ Mick Wells, boss at the Barge and Bottle on Carre Street will reopen his doors at 11am on Saturday.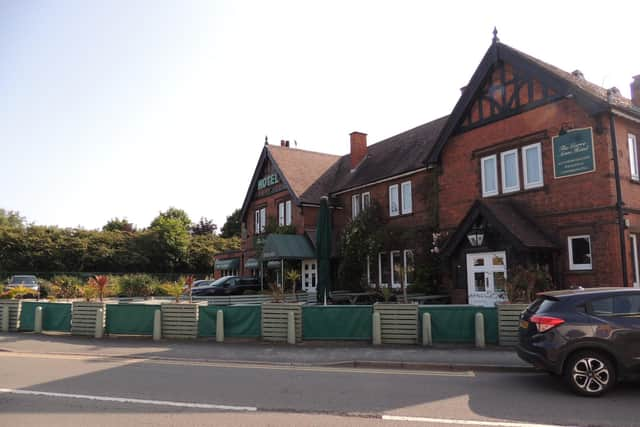 Outlining the changes have made to ensure it is as safe as possible to dine and have a drink he explained: "For social distancing, we have arranged tables and managed bookings to ensure there is 2m distance.
"There is a one way system for arriving and departing, we ask customers to arrive via our front entrance and depart via our beer garden.
"All bookings must comply with the government guidelines and will be limited of up to two households inside.
"Whilst we are happy to serve customers without a prior booking, we are asking that you book ahead of your visit to avoid disappointment. We will ensure the tables are clean and sanitised before the next booking."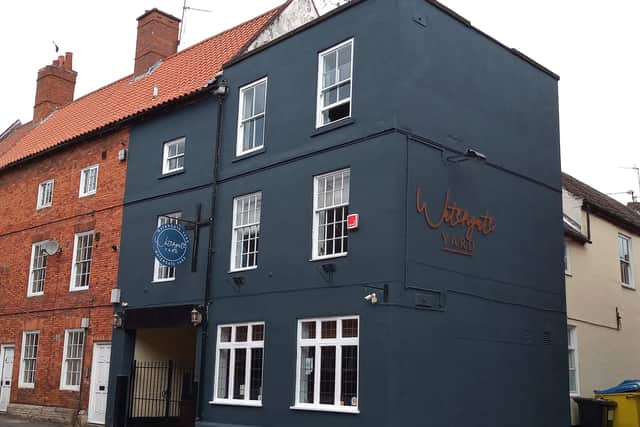 The Barge has also created a drinks text service to enable you to keep your glass topped up at all times.
He said: "We will have a floor host and full table service. Upon arrival please queue using the markers on the floor. There will be no bar service at this time.
"We have placed hand sanitizer stations throughout the pub and ask that you use them especially upon entry and when using facilities. Also, on arrival you will be requested to sign the registration book in accordance with government guidelines. "
Each team member will complete a pre-shift health check to confirm they are well and fit to work.
Customers should only visit if you and your party are well. If any of your party are displaying symptoms of Covid-19, stay at home.
They have a temporary smaller menu, still full of Barge favourites to help the team get used to all the new systems in place. But they will soon introduce more dishes and weekly specials.
Mick said: "Our team will be returning to work with a lot of new changes, which will be daunting, together with our customers we need to follow the rules to stay safe. Please bear with us and we will monitor our new procedures and make changes if needed.
"We cannot wait to welcome you all back."
○ The Marquis of Granby in Northgate is due to reopen from 10am on Saturday. Customers will need to be seated and served at their tables by staff wearing PPE, according to government guidelines to the hostelry trade.
Customers can only sit together if they are in the same household or 'bubble'. Customers are asked to stick to the guidance.
Steve at the pub admitted: "I'm really not sure how busy we will be."
○ Marcus Hrubesch at the Solo Bar and Restaurant in Market Place said they have been very busy all week getting ready to open on Saturday.
"We have decided to open the kitchen as normal this weekend so that we can judge how it goes. We will be open on Saturday at 8am for breakfast and lunch until 3pm. The bar will remain open all day until 11pm and the kitchen will re-open at 5pm until 9pm.
"We will be bringing back our ever popular Steak Night offer with two steaks and a bottle of wine for £25. Sunday will see the return of Sunday lunch with tables available from midday until 6pm. The bar will remain open until 10pm.
"We are looking forward to seeing many of you so we do recommend booking a table, especially for food, as we will of course have limited capacity."
A one way system will be in place to minimise the number of people in the main entrance so they will be asking you to exit via the function room out to Church Lane. As per the guidelines customers should not approach the bar as full table service will be in operation, inside and out.
Tables will be spaced apart to facilitate social distancing and they will be taking contact details of everybody, which will be held for 21 days for the Test, Track and Trace system.
Marcus said: "Our staff are receiving full training on how things will work, on cleaning procedures and how to maintain social distancing within our setting, but please remember that it is all very new to them, as it will be to all of us.
"We have been very busy during this lockdown period, deep cleaning and reorganising in order to be be ready. The bed and breakfast conversion has continued with only a short break and we used this time to bring forward one of the phases of the downstairs refurbishment which we can't wait to reveal. We will be launching our new summer menu on Saturday too."
He commented: "While things might be a bit different for a while, we are fortunate to have the space to be able to implement social distancing well, both inside and out.
"We are thankful to those of you who have missed celebrations booked in our Market Room that have moved them to later dates. Lockdown has been tough on everyone but we fear that the tougher times are ahead for our industry, and others. We rely solely on you all to keep our business going and can't wait to throw open the doors to welcome you again."
○ The landlords of the White Horse on Carre Street thanked those that have supported them while closed. They will be re-opening on Saturday but due to distancing and limited numbers will only be open to regulars for the time being.
○ The Carre Arms Hotel will be opening its bar and restaurant on Saturday.
Boss Lisa Cunago said: "We have screens at the bar and reception area and all the touch points are cleaned hourly.
"Social distancing allows only one person to be going upstairs at a time and masks, gloves and aprons are provided for staff."
Tables are spaced at two metres distance, with the function rooms turned into lounges to create more space without needing screens. They are also expanding the outdoor area at the front to take up more of the car park.
"I'm doing it in a way I feel comfortable, but I feel it is the right time to open," Lisa said.
Following the government announcement, Greene King, the brewery chain owning the Jolly Scotchman at Holdingham, said they will be holding off reopening it until Monday (July 6).
They said they have been working really hard to make sure customers can enjoy the pub safely, encouraging people to make a booking before you visit. This can be done via their app too. The menu will be slightly reduced but will still have the classics.
○ The Bull And Dog announced on Thursday that it would not be reopening yet, saying on their Facebook page: "Due to the current circumstances unfortunately we will not be opening on Saturday along with other premises. As soon as it is safe for us to do so we shall let you know."
○ Hollie and Ryan Blankley are holding off reopening the Watergate Yard in Watergate for a week, to celebrate their second anniversary of opening the pub.
They said: "Thank you to everyone that has supported us over the last two years - we have missed you during lockdown.
"We're excited to welcome you back, from July 10, with all social distancing guidelines and enhanced safety measures in place.
"Bookings will be taken through our website and should go live at the end of this week.
"Watergate Yard will be different for the foreseeable future, but Ryan, I and the team will do our upmost to make sure our guests are confident in our ability to keep them safe, feel at ease, and enjoy their experience with us."
○ Rik Thomas and his partner Nikki Wakelen-Ball are holding off reopening their El Toro tapas restaurant and Prohibition 1920s style gin bar.
They are aiming to make a big impact in line with the open air dining scheme in the Market Place being backed by North Kesteven District Council's economic development team.
Nikki explained: "We're not opening until the first weekend of August, along with the Market Place Cafe on July 31."
They have been busy refitting upstairs in the bar too.
The partners said they have looked at what they like about the business, the way they operate, what customers like and dislike and have been making some revisions to El Toro and Prohibition lounge.
○ Wetherspoon's pub, The Packhorse Inn, will be opening at 8am on Saturday for breakfast, providing a table service.
The menu has been slightly reduced to minimise the amount of food produced from more than one kitchen workstation, and a reduced range of condiments will be provided in sachets.
The pub chain has invested £11 million into making sure both staff and customers are kept safe when branches reopen.
Where possible, outdoor areas will be marked for customers to queue to enter, and only one entry point will be used, with a separate exit point.
Entrance doors will also be pinned open to increase air flow and reduce hand contact points.
The number of people allowed in at one time will be limited, so customers will have to wait outside until a table becomes free.
Signage will be installed inside the pub, offering guidance and direction for customers when they enter.
A hand sanitiser station will be placed at the entrance, with customers asked to clean their hands before they go inside.
Hand sanitiser stations wil be throughout the pub for customers to use.
JD Wetherspoon is discouraging people to visit in large groups and asking them to disperse around the pub.
Customers are encouraged to order and pay using the Wetherspoon app, where possible, directly from their table.
For customers who need to pay at the bar, contactless payments are encouraged, although cash will be accepted at a reduced number of tills.
If customers are not ordering via the app and would instead prefer to look at a physical menu, a disposable one will be provided. These menus will be single-use only and will be recycled.
Customers will nott be allowed to pop outside for a cigarette during their visit, as staff need to keep pathways and exits clear for others waiting to enter.
Instead, customers will need to either step away from pub doorways for a smoke, or go to the designated smoking area in the pub garden.
Signs reminding customers to observe social distancing will be in place in the smoking area.
Pub goers have been asked not to move any of the tables inside, as they have been arranged to meet the government's Covid-19 secure guidelines.
Tables will be placed at least one metre apart to help reduce the risk of transmission and will feature signs to remind customers to leave them where they are.
Children will still be allowed into Wetherspoons pubs, but parents must ensure they remain in their seat at the table. Parents will also need to accompany their children to the toilets.
Customers will be asked to provide their contact details every time they visit as part of the NHS Test and Trace initiative.
Details will be stored confidentially by the pub team and forms will be securely destroyed after 21 days.
* This list is not exhaustive, please check with your own local pubs in the town or district if unsure of arrangements.