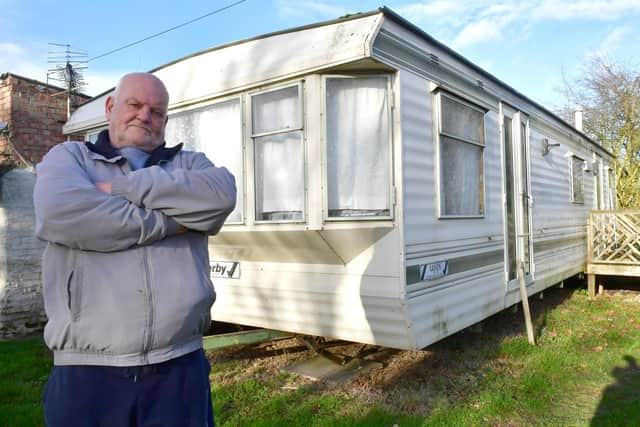 Stroke survivor Steven Fletcher, 67, claims he has been living in a static caravan in his friend's rear garden in Sutterton for over a decade.
However, two years ago legal proceedings were brought against Mr Fletcher by Boston Borough Council for his residency to cease.
An enforcement notice was served to him in April 2019, with the council saying his caravan failed to meet current planning policy. He was initially given until January 3 this year to vacate the caravan, but this has now been extended until March 3.
Mr Fletcher, helped by his friend Ros Reynolds, who owns the land his caravan is on, has been battling to keep his home since, launching an appeal at the High Court of London last year. They won this, but it was later overturned on December 7. Mr Fletcher was then told, just over two weeks before Christmas, that he had to be out in 28 days.
In a statement to the Standard, the council claims: "No evidence of exceptional circumstances were provided to the council to consider."
Under Land Registration rules, he must have been staying there for 10 years to be allowed to stay.
However, Mr Fletcher and Ms Reynolds claim the council informed them he had lived there just short of the required minimum of 10 years.
Ms Reynolds says they were unable to remember the exact date he began living there when asked to provide one, and so gave the council a rough date.
She said: "I feel this is the council being pedantic to the ninth degree over less than a couple of months. The static has been here since 2007, and he has been in and out of it as a place to lay his head when not working since then.
"Let him spend the rest of his days in his caravan where he is content. Why put a stroke victim under such stress?"
Mr Fletcher told the Standard: "It's my home. I've lived here more than 10 years now and I've no intention of going into a concrete house or flat, and being dumped away from my family and friends.
"My mother is 89 and lives nearby and I have to visit her to care for her.
"I'm 67 and I've got my own health issues, having had a series of strokes three or four years ago, which ended my working life."
Mr Fletcher used to work as a groundworker, travelling around the country as part of his job, with his employers putting him up in hotels. When he returned to Lincolnshire he would stay with a girlfriend in Sleaford. However, after that relationship ended, he decided he would be 'better off on his own' and bought a caravan on his friend's land as somewhere to stay when he was home from his job.
"My static caravan is full of my life from the past decade," he said. "I don't want to be stuck in a flat somewhere, I like the countryside, and being left alone."
Ms Reynolds added: "Putting him through this stress especially given his health condition – it beggars belief."
The pair are now pursuing a planning application in the hopes of saving his home.
The council had initially gave Mr Fletcher until January 3 to vacate it – but later agreed to "offer a limited extension to the compliance period" for two months. They said Mr Fletcher was expected to "engage with the council's housing team, to seek alternative accommodation".
A council spokesperson explained: "An enforcement notice was served on the property owner on 11 April 2019 in respect of the residential occupation of a static caravan situated in the rear garden of the owner's property. The notice required that the occupation of the caravan cease and has been subject to a long drawn out planning appeal, which has finally been concluded in November 2022. The courts required that the appeal be re-determined and on 7 December 2022 the Inspectorate issued a new decision, and again dismissing the appeal and upholding the enforcement notice. The decision required the cessation of the residential occupation of the static caravan within a period of 28 days."
After learning a planning application would now be made, the council added: "Submitting a planning application is a valid alternative option available which may resolve this matter. The owner is exploring this with a view to possibly submitting a planning application together with the evidence of how long the caravan has been lived in, and the exceptional personal circumstances of the occupier of the caravan. This has not been provided before. The onus is upon the land owner and caravan occupier to put their case forward for consideration."
Asked whether he would refuse to leave if the planning application was refused, Mr Fletcher said: "No, I don't want to cause any more trouble for Ros. If I have to get out, I will try to get a touring caravan and just travel around in that."