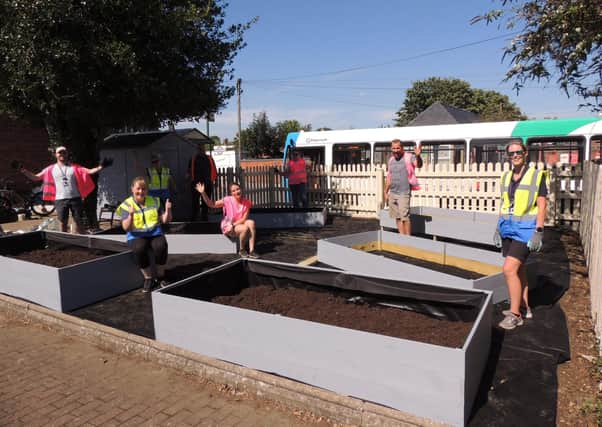 The scheme has adopted a patch of neglected land beside the ticket office on Platform 1, with Poacher Line Community Rail Partnership Officer Joanne Andrews recruiting gardening blogger Kirsty Russell to oversee its development.
Regular work parties have seen volunteers from Network Rail, East Midlands Railway and the East Midlands Community Rail team lend a hand to clear the site, build, install, fill and paint planters and a potting shed, as well as reciving donations of top soil and bark chippings from local businesses.
Last week the team laid the bark chippings for the walkways around the raised beds.
Kirsty and her family have also adopted the rest of the station with a view to brightening it up too with their green fingered touch. Kirsty began writing her blog, My Little Allotment after finding gardening as therapy to overcome Post Traumatic Stress Disorder after the birth of her child.
Joanne said all the work parties have been suitably socially distanced.
Kirsty said: "I am really pleased with the progress and a good turn out from everyone being relaly helpful.
"We will be having wall planters on the fences filled with herbs and perennial flowers and planting lavender along one fence and bluberries at the back."
She and her dad are building a customised planter to go around a tree in the centre of the plot to be filled with flowers attractive to bees, such as dahlia and salvia and they will install seating too.
The plan is to invite members of Rainbow Stars, the Sleaford-based support group for families of young people with autism and other special needs, to come along in the autumn and winter to get involved in gardening as therapy.
Kaye Robinson, the Community Rail Ambassador for East Midlands Railway, said: "We are really excited to see Sleaford station enhanced by a lovely project that will really benefit the diverse people within our society. I am ecstatic to be part of it and moving it forward."