Councillor's call to action over Boston tip as angry residents are turned away
'Tip rage' has returned at Boston's Household Waste Recycling Centre.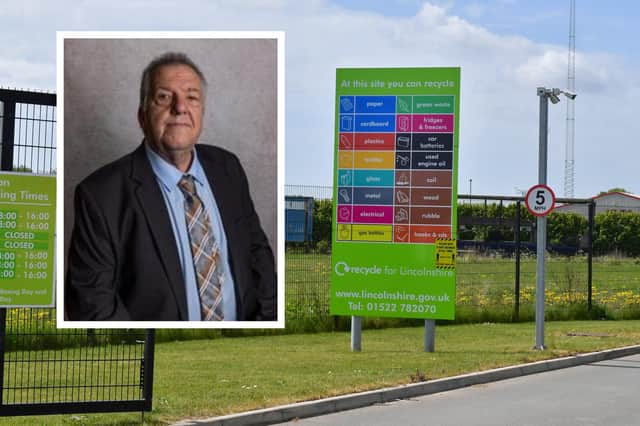 Residents say they are fed up with being turned away from Boston tip with boot loads of rubbish after being told the relevant waste skips are full.
The centre, in Bittern Way, has been experiencing disruption recently as "containers are being filled faster than they can be emptied", say Lincolnshire County Council (LCC), which runs the site.
On May 30, LCC reported that the soil, rubble and hardcore waste stream had to be temporarily shut down. This didn't re-open until three days later on June 2. There were similar issues with green waste on May 29, scrap metal on June 1, and wood waste on June 5, but these were resolved within a few hours.
Commenting via Facebook, one resident wrote: "It's hard enough for some people to load a car, let alone being turned away to have to go home, unload it and reload it again another day."
Skirbeck ward councillor Paul Gleeson is hoping the borough council can take action to encourage LCC to address the ongoing issues there.
In a statement, shared with LincolnshireWorld.com today (Wednesday), he writes: "Whilst the provision of waste and recycling centres is a County Council matter, it is open to the Borough Council to scrutinise and challenge the local provision if the feel it is inadequate for the town. From before I was re-elected onto the Borough I was concerned about the provision and from what I am hearing and reading the situation appears to be getting worse.
"Today I have issued a Councillor's Call for Action asking the Borough to do a full scrutiny of the waste and recycling provision."
Coun Gleeson includes comparisons between Boston's HWRC and those in neighbouring counties, stating that Newark's HWRC is open for a yearly total of 3,722 hours, compared to Boston's 2,056-2,080 hours, for one example.
The independent councillor has also asked the borough council to find out if the county council-run facility is "sufficient in size for the town", and queries why the facility's opening time is "so restricted when compared to other counties".
Referring to recent high-profile cases of fly-tipping across the borough, he also asks: "Has the very limited availability of the recycling centre increased fly-tipping in the area, placing a greater burden on the borough?"
If Boston Borough Council accepts the call to action, it will go for discussion at the council's Over and Scrutiny Environment and Performance committee.
We contacted LCC about the issues residents are having.
A spokesperson told us: "During busy periods, we are experiencing disruption at some sites where containers are being filled faster than we can get them emptied. When this happens, we have to temporarily stop accepting that waste type until we're able to empty the container. The vast majority of the time, we're able to start accepting that waste type again the next day, if not later the same day.
"When we do stop accepting a certain type of waste temporarily, we use social media and our website to try and stop residents wasting a journey if that material is something they are looking to get rid of."
The spokesperson said the Bank Holidays exacerbated the issue in May, adding: "We are working hard with our hauliers to reduce this disruption for residents, but we would advise checking the site page on our website for the recycling centre you are looking to visit before setting off, just to check if there's any disruption at your local centre."
Boston tip is currently open Friday through to Tuesday, from 8am-4pm each day.
• For the latest updates on disruptions at Boston's HWRC, visit LCC's website or follow them on Twitter.