Go-ahead granted for £8.9m scheme to meet housing need
An £8.9million investment providing much-needed extra-care housing for independent living in Sleaford is also making room for more wildlife habitat and biodiversity gain.
Watch more of our videos on Shots! 
and live on Freeview channel 276
Visit Shots! now
Described as a well-designed scheme, that contributes to the carbon net zero aspirations for the area, the North Kesteven District Council-led plan for 1.8 hectares of land at the old highways depot at The Hoplands has now been given planning permission.
It will include 40 extra-care apartments part-funded by Lincolnshire County Council for older people and 12 maisonettes community-supported living accommodation for working-age adults with specific needs – all 52 offered at affordable rents – plus 20 houses to further expand local provision.
The landmark extra-care block will include a roof garden as well as enclosed private garden space and the broader development will support an estimated 10% increase in biodiversity, with tree planting, protection measures for existing trees, bird nesting boxes for swifts and sparrows, bat roosting boxes and hedgehog holes within the fencing.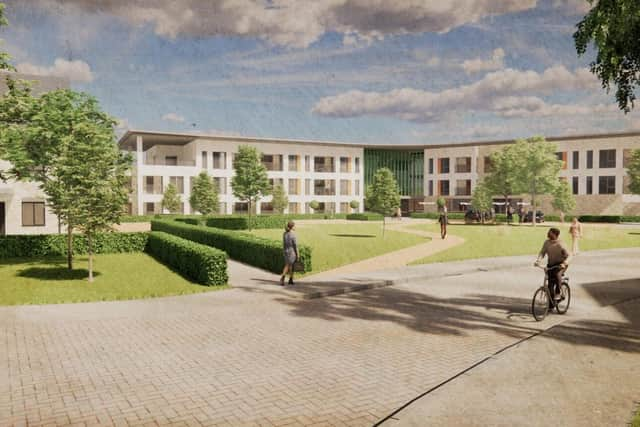 North Kesteven's planning committee was enthusiastic in its support for the scheme, after hearing that it made a significant contribution to meeting the accommodation needs of three distinct cohorts of people within the District: those aged over-55 with extra-care needs; working-aged adults with mental health, physical or learning needs; and those looking for smaller local market properties.
It will all be built in line with North Kesteven's C02-sy Homes standard of Net Zero Carbon in use and potentially to its higher Passivhaus level, which is a highly energy efficient way of living.
Cllr Richard Wright, the District Council's Leader and Executive Board Member with special interest in strategic development, said: "In many ways this plan represents the coming together of various strands of the concerns and considerations we have for our communities as councils: the provision of quality, affordable, homes that meet current and emerging needs; the health, wellbeing and safety of our residents; the resilience and sustainability of our communities; the pursuit and promotion of positive climate action; and excellence within the built environment.
"In its entirety, the Hoplands project encapsulates everything we want to see within our communities where people are able to remain living locally, independently and fulfil their potential for as long as they are able.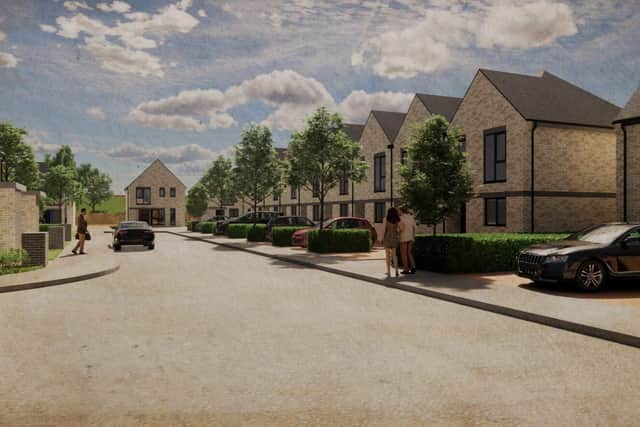 "It is a cohesive scheme with well-designed structures that tie in with the character of the area, makes effective and efficient use of previously developed land and responds to a number of specific and important areas of housing need. I look forward to seeing it develop over the coming months," said Cllr Wright.
There will be solar panels for renewable energy generation and design specifics which maximise potential for solar gain without overheating of the accommodation.
There will also be public open space, associated landscaping, contribution to footpath enhancements and almost £30,000 towards capacity expansion within local healthcare.
Delivered in partnership with Lincolnshire County Council, the 40 self-contained extra-care apartments will be flexible and easily-adaptable to meet the residents' needs as they change and allow residents to remain independent as their needs increase. The accommodation is designed to create an 'enabling environment' and to adapt and facilitate the delivery of care and support services, considering the dynamics of ageing over time, including disability and complex health needs. Eleven will be two-bed apartments and there will be dedicated dining facilities on site.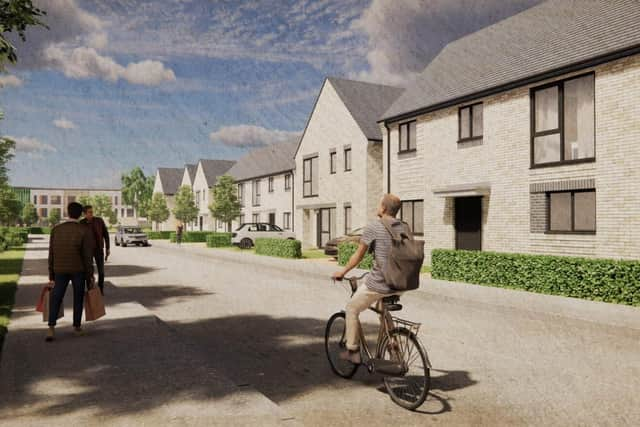 At present, there is no extra-care accommodation within the District, which has been a long-held aim of the Council. Based on current projections there is presently a need for 43 units to meet the needs of the Sleaford area's population of 1,711 over-75s alone. With expectations for the number of over-75s to increase by 32% up to 2035 and 63% up to 2040, this points towards a growing issue for accommodation for elderly people and demonstrates an explicit need. This new provision of 40 units championed by the two councils working in partnership was seen by the planning committee to 'make a significant contribution towards a current shortfall in elderly accommodation'.
Councillor Wendy Bowkett, Executive Councillor for Adult Care and Public Health at Lincolnshire County Council, said: "The Hoplands extra care scheme will provide important accommodation choice for older people in the district and community supported living for working-age adults with specific needs. It builds on our successful De Wint Court extra care facility in Lincoln and the development currently being built in Welton.
"Extra care is about maximising independence and improving wellbeing for our older residents. We need to respond to the developing care needs of our residents as they age, giving them further choice and control in key aspects of their life such as where they live and the type of support package they receive.
"Extra care housing allows people to access services in their communities, closer to home, reducing moves into inappropriate residential care and inpatient admissions. And residents within extra care housing have opportunities to develop skills and knowledge and build their confidence which will enhance their quality of life."