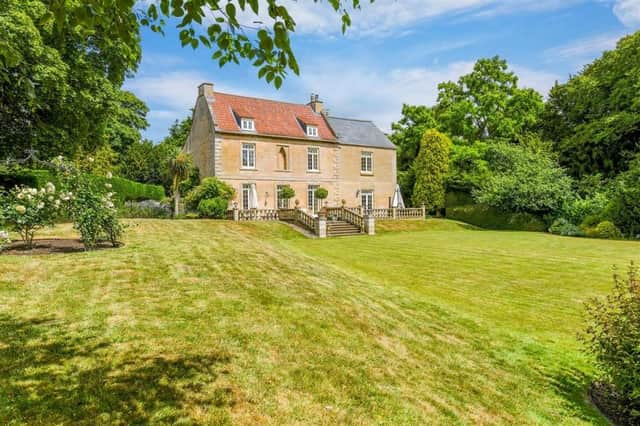 STAR PROPERTY: £1.25m six-bedroom historic home that once hosted two future kings for sale in Lincolnshire
This week's Star Property comes with a wealth of history, from being partially designed by one of the architects of the Houses of Parliament to playing host to royalty.
Published 10th Jan 2023, 13:51 BST
Updated 10th Jan 2023, 14:09 BST
The stunning six bedroom home in South Rauceby, near Sleaford, was built about 1655.
Originally, it sat alongside a chapel, but that has since been demolished.
It is believed that the home was once used as a convent, hence the niche and bell feature on its southern elevation.
In 1830, a number of extensions and additions took place. These developments were carried out by Augustus Pugin, who is best known for his work on the Palace of Westminster.
In 1918, Prince Albert lived at the property with the owners of the time, having left his quarters at Cranwell, and the Prince of Wales also stayed at the house. It means that two kings have resided there – King George VI and King Edward VIII. ​​​​​​​​​​​​​​​​​​​​​​​​​​​​​​​​​​​​​​​​​​​​​​​​​​​​​​​​​​​​​​​​​​​​​​​​​​​​​​​​​​​​​​​​​​​​​​​​​​​​​​​​​​​​​​​​​​​​​​​​​​​​​​​​​​​​​​​​​​​​​​​​​​​​​​​​​​​​​​​​​​​​​​​​​​​​​​​​​​​​​​​​​​​​​​​​​​​​​​​​​​​​​​​​​​​​​​​​​​​​​​​​​​​​​​​​​​​​​​​​​​​​​​​​​​​​​​​​​​​​​​​​​​​​​​​​​​​​​​​​​​​​​​​​​​​​​​​​​​​​​​​​​​​​​​​​​​​​​​​​​​​​​​​​​​​​​​​​​​​​​​​​​​​​​​​​​​​​​​​​​​​​​​​​​​​​​​​​​​​​​​​​​​​​​​​​​​​​​​​​​​​​​​​​​​​​​​​​​​​​​​​​​​​​​​​​​​​​​​​​​​​​​​​​​​​​​​​​​​​​​​​​​​​​​​​​​​​​​​​​​​​​​​​​​​​​​​​​​​​​​​​​​​​​​​​​​​​​​​​​​​​​​​​​​​​​​​​​​​​​​​​​​​​​​​​​​​​​​​​​​​​​​​​​​​​​​​​​​​​​​​​​​​​​​​​​​​​
Features include: a drawing room with multiple French doors leading out onto the elevated terrace, a panelled library, a dining room (which also opens out onto the terrace), a breakfast room and adjoining kitchen, and a cellar.
The home is on the market for £1,250,000. Enquiries to Mount & Minster, Lincoln, on 01522 716204.