This month's Gardening column - moving seedlings into pots
​In the next of our gardening column by Kate Giffen, she talks usthrough the next steps of ensuring your seedlings survive the transfer...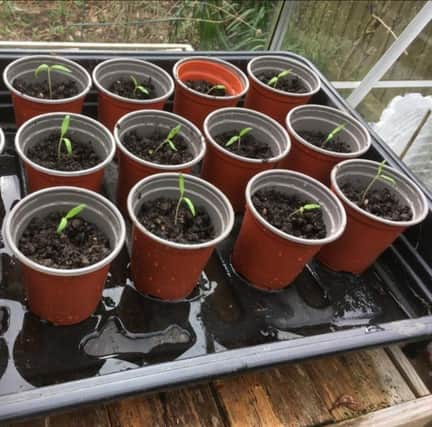 ​I hope you managed to make a start with some windowsill wonders. Any sign of your tomato seeds yet? If not, don't panic. Seeds can take longer than you think, so give them a few more weeks.
Alternatively, you can also always pick up some young plants if you miss the seed sowing window.
If you do have a tray full of tomato seedlings, here's a few tips. It is still too early to plant out but you will need to nurture your seedlings.
Seedlings will turn towards the light so make sure you turn the tray regularly.
If your seedlings have made rapid progress, are already about 2in high, and have clearly developed leaves beyond their initial seed leaves, then they are ready to pot on.
I would ease them out with a cutlery knife, holding onto the leaves carefully, make a hole in soil, and place them in individual pots on a warm windowsill, which works perfectly well if you don't have a greenhouse.
Your potatoes might well have a load of lovely green shoots by now. If you haven't set them to chit, it really doesn't matter. Chitting simply means you get an earlier crop, not no crop at all! Wait until after the last frost before planting in the ground.
Once the shoots are about 2-3cm long, I would recommend planting into containers or even bags if you can keep them in a sheltered, frost-free area outside.
If you cut your potato into sections, ensuring each section has a sprouting eye, then you can double or even triple the number of plants you can get from a single chitted potato. The potatoes themselves will also tend to be smaller though.
With the varieties like the early new potatoes, you can plant them in double plastic tub containers. If you cut panels in the inner container, then you simply lift that out, harvest the potatoes, and then slot it back in place without digging up the whole plant. Plant them 5cm deep, with the shoot facing up.
As it is still really quite cold, you might want to hang on a few more weeks before sowing salad leaves and spring onions direct, but you can always start them off on the windowsill again.
Leeks spring onions are fiddly seedlings, so if you start them off indoors, you avoid tricky weeding whilst they are still quite thin. If you sow a few seeds to a 10cm wide pot, you can actually replant the whole thing into the soil, but we will look at that again next month.
You could try some peas outside although they do need frost protection. Soaking the seeds overnight in water will help with germination.
Try a high yielding variety like 'Nairobi', which produce a load of tender sweet pods which you can eat whole.
See you in May when hopefully, everything will have warmed up a bit!